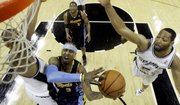 San Antonio — Michael Finley set a San Antonio playoff record with eight three-pointers Wednesday night and the Spurs advanced to the Western Conference semifinals with a 93-78 victory over the Denver Nuggets.
Finley finished with 26 points, Tim Duncan had 23 points and 12 rebounds and Tony Parker added 16 points and 10 assists for the third-seeded Spurs, who dropped Game 1 to the Nuggets at home before winning the next four in the first-round series.
It was a virtual repeat of 2005, when the Spurs lost Game 1 at home before winning the next four to eliminate Denver.
The Spurs will meet the Phoenix Suns in the second round.
"Stay with the concept," Finley said. "Stay with the team philosophy. As long as we do that, we'll be successful."
Allen Iverson struggled from the field for his fourth straight game after scoring 31 points in Game 1. He was 6-of-22 from the field and had 21 points Wednesday, 10 in the fourth quarter.
Sixth-seeded Denver traded for Iverson in December to create an All-Star duo with Carmelo Anthony.
Anthony had 21 points in Game 5, while Steve Blake had 12 and Nene added 10. Marcus Camby had 19 rebounds.
Denver has not won a playoff series since 1994, when they beat Seattle in a best-of-five to become the first No. 8 seed to knock out a No. 1.
Finley was 8-of-9 on threes while the Spurs finished 10-for-21 from beyond the arc. He came into Game 5 shooting nearly 41 percent from three-point range during the playoffs, up from 36 percent during the regular season.
"Well, I was feeling it a little bit," Finley said. "Every shot I took felt good and fortunately they went in tonight.
"It was important for us to play 48 minutes," he said. "We focused and that was the difference."
Iverson missed his first six shots Wednesday. His first field goal came with 8:50 left in the second quarter, and it brought the Nuggets within 30-25.
Duncan gave the Spurs a 37-27 lead when he drove to the basket for a dunk with 6:38 left in the half.
Denver chipped away at the deficit and Blake hit a three-pointer with 31.9 seconds left to give Denver a 45-44 lead. After Robert Horry missed a three at the other end for the Spurs, Blake hit another three off a pass from Iverson, who had six assists in the half, just as the quarter ended to put Denver up 48-44.
The Spurs opened the fourth quarter with a 7-0 run sparked by Finley's fourth three of the game.
After a slew of misses on both sides, Iverson's three-point play gave Denver a one-point lead. It was their last of the night as Francisco Elson hit a dunk with 6:21 left in the third.
Finley's fifth three with 1:30 left in the third put San Antonio up 61-55, and they went into the final 12 minutes up 63-59.
Horry, who sealed Game 4 for San Antonio on Monday in Denver off a three-pointer with 30 seconds left, hit a three to open the fourth quarter and his dunk with 9:43 left gave the Spurs a 70-61 lead.
Finley hit his sixth three with just over nine minutes to go and his seventh came halfway through the fourth quarter as the Spurs took an 82-71 lead. His last 3 came with about 21â2 minutes left to make it 89-76.
Copyright 2018 The Associated Press. All rights reserved. This material may not be published, broadcast, rewritten or redistributed. We strive to uphold our values for every story published.