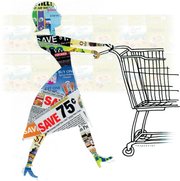 Food prices have increased so dramatically in recent years, a trip to the supermarket is enough to ruin your appetite. But you can still save on your grocery bill. Woman's Day suggests these ways:
¢ Find the deals. Amazon Grocery (amazon.com/grocery) offers more than 14,000 nonperishable grocery items, with free Super Saver shipping on orders over $25. Be prepared - in exchange for competitive pricing, you'll be buying larger quantities than at a traditional grocery store. But here's the fun part: For the products it stocks, Amazon offers plenty of varieties.
¢ Shop the sales. A great way to save money is to handpick the loss leaders from several stores in your area. Loss leaders are items priced lower than the store's cost. A new Web site, My Grocery Deals (mygrocerydeals.com), is a cherry picker's dream come true. Register at the site, then select the stores in your neighborhood and watch all the sales pop up.
There was a time when coupons showed up in the Sunday paper and that was about it. Now they're available online, in magazines, through the mail and directly from some manufacturers' Web sites.
¢ Check it twice. Grocery store scanners are not always reset with current sale prices. Your chances of being charged the full price on a sale item are high. To get the right deal, stay alert and watch the scanner - and speak up if you see a discrepancy.
Copyright 2018 The Lawrence Journal-World. All rights reserved. This material may not be published, broadcast, rewritten or redistributed. We strive to uphold our values for every story published.