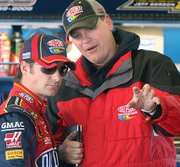 Steve Letarte has never received a paycheck from any company other than Hendrick Motorsports in his life.
If team owner Rick Hendrick has anything to do with it - and it's certain he will - that may never change.
Letarte, the 27-year-old crew chief for four-time Nextel Cup Series champion Jeff Gordon, has been sharing the spotlight this season with his driver, as Gordon has reestablished himself as a championship contender with two wins and eight top-10 finishes in the season's first nine races.
In one position or another, Letarte has been a part of all but the first two of Gordon's 77 career victories.
"I missed a couple wins in 1994 but have been there for most of them. It's different for me because I've got to win at different levels of employment," said Letarte following Gordon's win last weekend at Talladega, Ala.
"I was just a parts runner when I started, then I was a tire man, then a mechanic and then a car chief. So (the wins) all have different significance to me. But it means a lot. We make a living doing this and I enjoy it. I was kind of raised here."
Having been a part of the Hendrick Motorsports organization for most of his life, Letarte said he requires no extra motivation to do whatever it takes to get Gordon in Victory Lane each week.
"When you have someone like Mr. Hendrick who's kind of taken you in and raised you up as a young kid in high school and taught you everything about racing, it's hard to give those guys anything," he said.
"To win for them, that's really the only thing you can do. I think that drives a lot of the employees at the company and I think that's what a lot of people underestimate. It's motivation from within.
"You don't have to put prizes or goals up, people want to win because they want to see the people around them happy and I think that's what makes a difference."
When Gordon's former crew chief, Robbie Loomis, left during the 2005 season to return to Petty Enterprises, there were many who questioned Letarte's ascension to crew chief. Letarte was in his mid-20s; Gordon was already in his early 30s with 72 Cup wins in hand.
Now, Letarte is on track to become the third crew chief to win a Cup championship with Gordon (Ray Evernham and Loomis were the others). Gordon and Letarte are also striving for their third consecutive win this season entering Saturday night's race at Richmond, Va.
"A lot of people questioned Stevie being the right person to step in with Jeff. He waited a year. He could have had an opportunity with one of the other teams, but he elected to wait for Jeff Gordon," Hendrick said.
"We've kind of done our own thing. We don't let other people drive us into doing things that we don't think are good for our organization."
Gordon has been outspoken about his crew chief's enthusiasm.
"He's really got the guys fired up. They're working together so well. They're all pumped up and ready to go to each race with a chance to win," he said.
"I want them to know that me as the driver, I feel that same way. I'm in there giving them everything that they're giving me."
Perhaps most proud of the direction Letarte has taken the team is Hendrick, who has followed his development since Letarte started as a part-time parts assistant in 1995 while still in high school.
"There's probably as much pride looking up there on that box and seeing a guy - I can remember, was cleaning up the shop - get up there and call the shots and do what he's doing," Hendrick said.
"It keeps guys (at Hendrick Motorsports) because they know they have opportunities. ... I'm super proud of him. He's amazed me. As much as Jeff has, Stevie has amazed me, too."
Copyright 2017 The Lawrence Journal-World. All rights reserved. This material may not be published, broadcast, rewritten or redistributed. We strive to uphold our values for every story published.