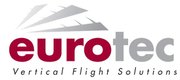 Eudora — Eurotec Vertical Flight Solutions, a Lawrence-based firm that supplies helicopter owners and repair shops with everything from nuts and bolts to rotors and engines, is taking off for Eudora.
The company is the new owner of the former administrative offices of M-Pact Worldwide, a medical supplies company bought out by BSN Medical Inc., which closed the operation late last year.
The 21,000-square-foot building, along the north side of Kansas Highway 10 in the Intech Business Park, offers Eurotec a chance to keep up with rising demand for new and used parts, said Chad Decker, the company's president and owner.
Sales have doubled during the past three years, he said, as the company has built a client list of 450 owner/operators and service shops that typically work with six- to eight-passenger helicopters.
Eurotec has landed two contracts during the past year with the U.S. Department of Homeland Security, whose helicopter fleet has been growing along with those of other law-enforcement and security agencies. Demand for air ambulances, oil crew transports and tourism-related helicopters also is driving the need for new and serviceable used parts, Decker said.
"If you've taken a tour in Hawaii or Las Vegas, most likely there's a part from Eurotec on it," he said.
Eurotec has been running its international sales and distribution operation for six years out of a nondescript, 3,600-square-foot office at 4910 Wakarusa Court. The company also has a separate storage center in Lawrence, with 2,000 square feet of space.
The former M-Pact building will allow for both operations to be consolidated, Decker said. The company has 10 workers on the payroll now - eight full-time, plus two part-time - with plans for adding another five to 10 within the first year.
Eurotec had hoped to stay in Lawrence, but couldn't find a building that was both large enough and available for sale, Decker said. Timing also was an issue.
"Because of the rapid growth of our company, building new just wasn't an option," Decker said. "When we found this building on the market, it didn't take us very long to make the decision."
Eurotec aims to have interior remodeling complete in time to move by Sept. 1. Terms of the transaction were not disclosed, but the property had been listed for sale at $1.295 million.
"It's a long-term investment," Decker said. "We plan to be around for a long time."
Copyright 2017 The Lawrence Journal-World. All rights reserved. This material may not be published, broadcast, rewritten or redistributed. We strive to uphold our values for every story published.