"Smile. Look pretty. Show them what a good-looking man looks like."
These words were said by Kansas University assistant baseball coach Kevin Frady just seconds before senior relief pitcher Ryotaro Hayakawa left the dugout to get his picture taken before the start of practice last week.
The lingo in the game of baseball is unlike any other sport. Watch a baseball game on TV or listen to one on the radio, and quite often the announcers will use terms such as "ace," "can of corn," "basket catch," "closer," "table setter," "dinger" and many others.
While the meanings of these words have little to do with nabbing a good card in poker or grabbing a food item off the grocery-store shelf, they can, however, have significant meaning in determining the outcome of a game and a season.
Unlike last season, when Kansas had Kodiak Quick, an 11-game winner, this year the squad doesn't really have an "ace" - the title given to the team's top starting pitcher, who is counted on to throw seven solid innings a game and stop losing streaks.
Junior right-hander Andres Esquibel leads KU in wins with six, and is third on the team with 57.1 innings pitched. Freshman southpaw Wally Marciel is second on the team with four wins, and is fifth on the squad with 48 innings pitched. KU's "closer" is Paul Smyth. His job is to "close the door" by getting the final few outs of the game and recording a save. Smyth has notched six saves this season and said he relishes his new role.
"Obviously, being the closer on the team, it's one of the more well-known positions," Smyth said. "It's up there with the same guys as the Friday-night guy and the weekend rotation guys. Along with the title it carries a huge responsibility, but I've closed before, and being a setup guy is just as crucial. But obviously it kind of carries a little more pressure role."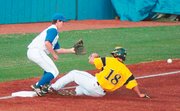 But before he enters the game in the late innings, Smyth can often be found chatting it up and spitting sunflower seeds with Hayakawa in the bullpen. And the conversations between the two can be very animated.
"As a pitcher it's tough," Smyth said. "You try to find things to fill in the time so you're not just sitting there and hyping up the other team too much."
Smyth said he passes the time by coming up with different nicknames for teammates.
"Obviously, Ryotaro Hayakawa isn't too much of a commonplace name. We've called him everything from "Yo" and "Kaz" to "Yogi" and more recently "Larry Lawrence Spencer Henderson." That's his full American name that we blessed him with. We decided he needed one after five years of being here."
Hayakawa said he takes the nicknames in fun, and occasionally answers back in Japanese. Hayakawa used to be a starter in high school, but since he came to KU he has been used strictly as a reliever.
"Coach Price gave me a different role, and I tried to get myself fitting into the role," Hayakawa said. "I liked it a lot."
Freshman teammate Robby Price plays the "hot corner," which is more commonly referred to as third base. Price played second base his freshman year at Free State High and shortstop his last three seasons before making the position change this year.
Robby Price said he enjoyed playing the position, where instincts are key and defending bunts and screaming line drives is routine.
"I kind of like it because it's a reaction position," Robby Price said. "I feel that's one of my strengths - just to react and just use your hands and not thinking about it having all that time at short."
Price is batting a respectable .281 this year, while first baseman Preston Land is batting .208, which is just eight points above the "Mendoza line."
"I actually just stopped thinking about it in general because it has kind of been kind of a rough year," Land said.
A season ago, Land batted .314 and hit nine home runs. But despite his struggles at the plate this year, he said his teammates haven't been calling him "Mendoza," instead they have been trying to help him get out of his season-long hitting slump.
"They're still supportive and try to give me confidence every time I go to the plate," Land said.
Rain washes Bethany game
Wet grounds wiped out Wednesday night's Kansas University baseball game with Bethany College at Hoglund Ballpark.
It marked the 13th time this season a KU game had to be called off because of weather. The contest will not be rescheduled.
Next for the Jayhawks will be a Friday night trip to Kansas State. Then the Sunflower Showdown will shift to Hoglund Ballpark for games at 3 p.m. Saturday and 1 p.m. Sunday.
Kansas skipper Ritch Price has been around baseball for more than 30 years. In that time he said he has noticed the language of the game changes every few years.
"It's funny, as I've gotten deep in my coaching career, the lingo changes about every four or five years with the college kids and what terms they're using," Ritch Price said. "I think they also throw in the things that are part of their culture. But being a college , they definitely use the college lingo and sayings."
Price said he was not surprised when a player returns to the dugout after striking out and the batter or another player makes an off-the-wall comment.
"I think the pace of the game, when you're on the bench and the games take three hours, I think the lingo, it lends itself to find a way to break up the monotony of the game and the drudgery of the game when you're playing every day," Ritch Price said. "And I think a lot of those terms that you see associated with baseball are a result of playing for six months and in the summer and seven days a week."
Copyright 2018 The Lawrence Journal-World. All rights reserved. This material may not be published, broadcast, rewritten or redistributed. We strive to uphold our values for every story published.