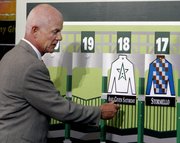 Louisville, Ky. — Curlin is undefeated, unchallenged and now he's the favorite for the Kentucky Derby.
And in drawing the No. 2 post for Saturday's race, the imposing chestnut colt even gets to start from the same spot Affirmed did on his way to winning the Triple Crown in 1978 - the last horse to do so.
The question is: Can he win it?
"We don't know how good this horse is, but he's just been dominating," Churchill Downs oddsmaker Mike Battaglia said in making the colt a slight 7-2 favorite over 4-1 Street Sense.
Still, Curlin has a few things to overcome.
He didn't compete as a 2-year-old and has run only three races in his career - though he won them by a combined 28 lengths.
History isn't on his side, either. It's been 125 years since Apollo won after skipping his 2-year-old season, and not since the filly Regret in 1915 has such a lightly seasoned horse worn the blanket of red roses.
Curlin will be ridden by Robby Albarado in a full field of 20 3-year-olds going 11â4 miles.
Besides Curlin, trainer Steve Asmussen will saddle Zanjero, a 30-1 shot, who will start outside Curlin.
"They got a friend near each other," he said. "They're going to think they're working together."
Trainer Todd Pletcher will try to end his 0-for-14 skid in the Derby with a record-tying five entries: Any Given Saturday, Circular Quay, Cowtown Cat, Sam P. and Scat Daddy.
"It's a very difficult race to win," he said. "We feel like we got our horses prepared well. Now we need some of the other things to go right."
Street Sense will try to end two of the Derby's longest jinxes: no Breeders' Cup Juvenile winner has ever gone on to win the Derby; no 2-year-old champion has won since Spectacular Bid in 1979.
With Calvin Borel aboard, Street Sense will leave from the No. 7 post for trainer Carl Nafzger, who won the 1990 Derby with Unbridled from the same position.
"Our horse has got a little speed," he said. "He can maneuver and watch what's going on."
Nafzger didn't feel slighted at not being the favorite.
"I don't care what the morning line is," he said. "I'd just like to be No. 1 to the wire."
Asmussen was blunter, saying, "The morning line is free. Everything that's on the racetrack that's free isn't worth anything."
Circular Quay was made the 8-1 co-third choice, along with Nobiz Like Shobiz, trained by Barclay Tagg, who won in 2003 with Funny Cide. Circular Quay, coming in off an eight-week layoff, will start in the No. 16 post.
"He's a horse that's probably going to fall a little back in the race," Pletcher said. "It's nice we're placed right outside Tiago because he's got a similar racing style."
Wood Memorial winner Nobiz Like Shobiz will leave from the No. 12 post.
Florida Derby winner Scat Daddy was installed as the 10-1 fourth choice and will break from the No. 14 post.
Pletcher's other horses were not among the favorites. Any Given Saturday was listed at 12-1; Cowtown Cat and Sam P. were both 20-1.
Proving there's often little strategy in the draw, Sam P.'s owner Jack Wolf chose the 13 post because he had the 13th selection.
"I couldn't argue with that logic," Pletcher said.
The most successful post positions in the Derby's 132-year history have been Nos. 1 and 5, which have produced 12 winners each.
Sedgefield, a 50-1 shot, will break from the rail, while Imawildandcrazyguy, who was purchased for $17,000 and is also 50-1, got the No. 5 slot.
Copyright 2018 The Associated Press. All rights reserved. This material may not be published, broadcast, rewritten or redistributed. We strive to uphold our values for every story published.