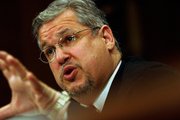 The Scott Bloch file
¢ Scott Bloch, a Lawrence native, earned a bachelor's degree in 1980 from Kansas University and a law degree from KU in 1986.
¢ He practiced law at Stevens & Brand LLP, a Lawrence firm, for 15 years before accepting a position with the U.S. Department of Justice in 2001.
Washington — When Special Counsel Scott Bloch put his obscure federal agency at the center of one of the furthest-reaching political investigations in the nation last week, it surprised many, but for different reasons than one might expect.
Bloch and the Office of Special Counsel aim to learn whether officials from Karl Rove on down used federal time and resources for Republican politicking or pressured federal employees into doing the same. The team also will pursue allegations that David Iglesias was fired as U.S. attorney of New Mexico for his reluctance to undertake politically motivated cases and for absences related to his service as a Navy reservist.
Bloch has spent most of his tenure under investigation himself due to allegations of illegal personnel practices - and he would be investigating the executive branch at the same time that it is investigating him. What's more, as a Bush appointee who once wrote that he "sold all my mutual funds when Clinton was elected," Bloch is not quite apolitical.
"There's no conflict of interest and no law to support a theory that I have a conflict of interest," he said in an interview. "It would be inappropriate for the White House to interfere with my independence or suggest I cannot undertake investigations that pertain to matters inside the White House. ... I have had those throughout my tenure."
Like the office he heads, Bloch is little-known in Washington. He is a lawyer who spent a decade at a Lawrence, Kan., firm before riding into town in 2001 to become deputy director of the Justice Department's office of faith-based initiatives. In 2004, Justice Clarence Thomas swore him in as special counsel.
As federal agencies go, the Office of Special Counsel is tiny, about 100 lawyers and investigators. The agency protects federal employees from illegal employment practices and whistle-blower retaliation, investigates claims of fraud and mismanagement and enforces the Hatch Act, which bans federal employees from politicking on Uncle Sam's dime. It is under this law that Bloch would pursue the White House probe.
He has not yet contacted the White House, but he has announced his intentions in the media. "We protect federal employees," he told CNN last week. "We protect the public from fraud and waste of resources, and that's what we do all day long, and this is another case."
Bloch has achieved a level of notoriety. Early on, he told a Senate panel that his office cannot protect gay federal workers from discrimination because the law does not extend to sexual orientation. Soon after, Bloch was accused of retaliating against employees who disputed his policies and of tossing out legitimate complaints and whistle-blower cases to claim progress in paring the office backlog.
In half a dozen inquiries by Congress, the Government Accountability Office and the Office of Personnel Management, so far "nothing has turned up," Bloch said.
He said charges that he can't handle this investigation come from organizations and individuals pursuing litigation against his office. "It's all absolute falsehood. ... Wild falsehoods," he said. "I'm not going to stop doing my job."
Under his leadership, Bloch says, the agency has become more efficient and receptive to whistle-blowers and employees alleging unfair treatment and has built on a solid record of prosecuting those cases. He cited the work of career staff members in winning back pay and job reinstatement for a Department of Agriculture whistle-blower; exposing physician misconduct at a veterans hospital; and protecting military personnel denied employment because of service-related absences or injuries. Those latter protections, he said, apply to Iglesias, a Navy reservist.
The Office of Personnel Management has been investigating the retaliation charges against Bloch for about 18 months. Bloch and staff members loyal to him have complained about delays and disruptions, calling the inquiry a "witch hunt" and a "fishing expedition." Employees have accused Bloch of trying to prevent them from participating in the probe, charges he disputes.
"This will be a legitimate, thorough investigation. It will be fair, impartial according to the law and the facts," he told CNN. "We are an independent agency, which means that I cannot be removed from office except for malfeasance."
Copyright 2018 The Lawrence Journal-World. All rights reserved. This material may not be published, broadcast, rewritten or redistributed. We strive to uphold our values for every story published.