Photo Gallery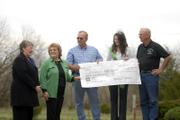 St. Patrick's Day Committee
The Lawrence St. Patrick's Day Committee marked the end of a successful fundraising season Thursday by dividing $50,000 among three agencies that assist children.
Committee members joined co-chairmen Gene Shaughnessy and Steve Cummings east of Lawrence to present the donations at the O'Connell Youth Ranch, which received $35,000.
O'Connell's board of directors hasn't decided how to use the influx of money, said Susan Adams, board president, but the funding will provide a much-needed boost.
"We have been struggling so much this past year," Adams said. "This has just brought a new spirit to the board. This just means that we can carry on our mission."
O'Connell serves 24 troubled boys in three group homes and spent about $35,000 last year to update its water system, which includes two wells and a treatment facility. New vans also are needed, Adams said.
A $10,000 donation will help launch Lawrence-Douglas County Fire & Medical's Operation Kindergarten program. In the next few weeks, department employees will visit every kindergarten class in Douglas County to fit students with a bicycle helmet and distribute safety information, said Rob Kort, division chief.
When kindergartners return home with a new helmet, Kort expects that older siblings will want one too.
"It's going to be uncool if you don't have a helmet," he said.
The department also sponsors the annual Lawrence Helmet Fair, set for May 12 at Free State High School. The event offers tips on keeping children safe while biking, riding in the car, swimming and boating.
The Strategic Education Center, which provides reduced-cost tutoring to students of all ages, received $5,000. The center plans to use the funds for 15-20 scholarships for students to attend summer school and for the center's marketing efforts.
"Using these funds to really work on our marketing campaign is crucial to letting people know that we're out there," said Rose Foster, the center's director. The center, in the basement of Trinity Lutheran Church at 1245 N.H., has served nearly 1,000 students since 2000.
In addition to the annual St. parade, fundraising events this year included an auction, the 5K Shamrock Shuffle and the Luck-of-the-Irish Poker Run.
Copyright 2018 The Lawrence Journal-World. All rights reserved. This material may not be published, broadcast, rewritten or redistributed. We strive to uphold our values for every story published.