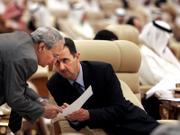 Riyadh, Saudi Arabia — Arab leaders pushed ahead Thursday with plans to develop nuclear programs, even as they warned of a possible Middle East nuclear arms race created by their powerful rivals Israel and Iran.
On the final day of their annual summit, Arab League leaders said they would have a high-level meeting this summer to review plans for an Arab nuclear industry.
Jordan's King Abdullah II called in a speech for the creation of a "Peaceful Arab Center for Using Nuclear Energy" to help "build our societies and modernize the realms of science, industry, agriculture and health."
Wael al-Assad, the league's official in charge of preparations for the meeting, said closer nuclear cooperation was prompted by fear of Israel's nuclear weapons, and Iran's escalation of its program.
"For the first time Arabs are showing real interest in developing nuclear industry, but further steps depend on their political will," he said.
Asked whether his kingdom would consider seeking nuclear weapons of its own if Iran acquired a bomb, Saudi Foreign Minister Saud al-Faisal said: "We have made it very clear that we are not going down that road under any circumstances."
He then added, "under any foreseeable circumstances."
The Arab summit was focused mainly on reviving a land-for-peace offer to Israel and forging a united stance in the numerous crises facing the Middle East - including the bloodshed in Iraq.
But in a final statement, the Arab leaders warned of "launching a dangerous and destructive nuclear arms race in the region."
They called for a nuclear arms-free zone in the Mideast, though they stressed all nations' rights to a peaceful nuclear program.
Iran says its program aims only to generate electricity, denying U.S. accusations it is developing nuclear weapons.
But concerns about Iran's intentions have prompted Egypt, Jordan, Saudi Arabia and Gulf Arab nations to announce their interest in creating their own nuclear energy programs.
Iranian Foreign Minister Manouchehr Mottaki, a guest at the summit, dismissed Arabs' fears as being caused by American "war drummers" and said Iran was prepared to cooperate with Arab countries in developing their nuclear programs.
Mottaki's presence at the summit was part of host Saudi Arabia's attempts to show it was listening to all sides in its efforts to tackle the region's troubles. The Sunni Muslim kingdom has met for talks in recent months with mainly Shiite Iran, its longtime rival, on easing tensions between the two sects of Islam and calming the crisis in Lebanon.
But the Arabs appeared unlikely to join any nuclear or military cooperation with Iran. The Arabs have long denounced Israel's nuclear arsenal - which the Jewish state has never confirmed - but they also have grown increasingly worried about Iran's moves toward developing a warhead.
Copyright 2018 The Associated Press. All rights reserved. This material may not be published, broadcast, rewritten or redistributed. We strive to uphold our values for every story published.