Children were helping children Wednesday afternoon at Langston Hughes School.
They were painting and packing for other children who might not be as lucky.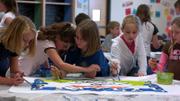 The students were putting together stationery packets and creative artwork for The Shelter Inc., an emergency shelter for children in crisis situations.
Most of the children at The Shelter are in state custody or police-protected custody, far away from their families and in unfamiliar surroundings at a tumultuous time.
"I think kids at some level have such a deep sense of passion and they see things so clearly and they just can't stand to sit by and see somebody in need and not respond," said Micki Chestnut, a PTO volunteer.
The gift bags were stuffed with stationery, stamps and calling cards, so children who are away from their families can keep in touch.
The artwork will be donated to help brighten up The Shelter.
"They'll feel more like home because they'll have all the bright colors and everything," said student Morgan Knapp.
Judy Culley, The Shelter's executive director, said children on the receiving end of the gifts will appreciate those doing the giving.
"I think it's a sense that you're not by yourself and that there are people in the world who care about you and whether you know those people or you don't know those people it doesn't make any difference because the community cares about them," Culley said.
The project is sponsored by the Langston Hughes PTO Community Outreach Committee. The goal of the group is to help students identify needs around them and to teach them how to make a difference.
Copyright 2017 The Lawrence Journal-World. All rights reserved. This material may not be published, broadcast, rewritten or redistributed. We strive to uphold our values for every story published.