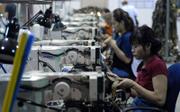 City commission race 2007
City commission race
-->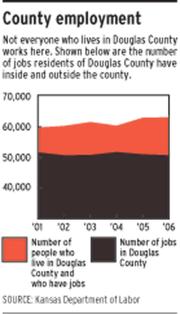 When it comes to whether Lawrence is doing a good job of adding jobs, City Commission campaigns have produced more numbers than a roulette.
And, at times, they've been as dizzying as a spinning wheel.
For example, there's one set of numbers that incumbents are campaigning on that show the city has gained about 1,900 jobs during the past five years. But there's another set of numbers that several challengers cite that show Lawrence has lost about 900 jobs during the past five years.
So, what gives?
At least one candidate says the incumbents have been ignoring the most important job numbers: the ones from the Kansas Department of Labor that show during the past five years a loss of 900 jobs based in Lawrence/Douglas County.
"I think a 900 net loss of jobs in this community is pretty astounding," said James Bush, one of six candidates in the race. "That data is pretty significant. I don't know how people can say during their tenure that they've added jobs to this community."
Incumbent Commissioner David Schauner counters that those numbers are flawed because they look at Douglas County as a whole, not just Lawrence.
He points to Lawrence Chamber of Commerce statistics that show about 1,900 manufacturing and prime jobs have been added to the community during the past five years. He said those numbers show the recruitment efforts the community is making. But he also said all the focus on job statistics is misguided.
"All of those numbers are generated by looking backwards," Schauner said. "In my mind, we ought to spend our time looking forward at what we can do. I can tell you that this City Commission has made a commitment to become a more meaningful participant in the marketing of this community to employers."
So, what do all the job numbers mean? Here's a quick look at the different job numbers candidates have been talking about on the campaign trail.
Chamber numbers
Schauner, Commissioner Boog Highberger and candidate Carey Maynard-Moody have been quoting a Lawrence Chamber of Commerce report from March.
The chamber stated the community's economic development work has produced almost 1,900 new jobs in the past five years.
But the chamber also said those are gross numbers, not net numbers. That means that the chamber did not account for the number of jobs that have left the community during the same five-year period.
A second part of the chamber report uses numbers from the Kansas Department of Labor that show 1,680 Lawrence/Douglas County residents - numbers for just Lawrence aren't available - gained a job from December 2005 to December 2006.
That's a growth rate of 2.68 percent, which is better than the 0.5 percent rate for the state as a whole, and is higher than Shawnee and Johnson county numbers.
Those statistics measure how many people live in Lawrence and have a job. It does not matter where the job is located. In other words, all Lawrence residents who commute to Kansas City and Topeka are included in those numbers.
For those looking for how many people in Lawrence have a job, those are good numbers. But for people who want to know how many people have jobs in Lawrence, the numbers are lacking.
Jobs in Lawrence
But the state's Department of Labor has numbers that get to that issue. A separate report measures how many people work in Lawrence and Douglas County, regardless of where they live. Bush, Rob Chestnut and Mike Dever have been pointing to these numbers in their campaigns.
Those numbers show that, from 2002 to 2006, the average number of jobs in Douglas County has decreased from 51,900 to 51,000. That's a decline of about 1.7 percent. On a year-by-year basis, the city lost jobs in three of the five years: 2002, 2005 and 2006.
During the 2002-2006 period, the number of jobs in Kansas grew by 0.4 percent. The Topeka metro area - which includes Shawnee, Jackson, Jefferson, Osage, Shawnee and Wabaunsee counties - dropped by 5.4 percent. The Kansas City metro area - which includes Franklin, Johnson, Leavenworth, Linn, Miami and Wyandotte counties - grew by 4.3 percent.
CNN/Money numbers
The other set of numbers that have emerged in the campaign have come from the 2005 CNN/Money Best Places to Live survey. Chestnut used data from that study in a campaign mailing that listed Lawrence's job growth at 1.56 percent, which was significantly below the rates in several other communities.
Those numbers are taken from a combination of sources, according to the CNN/Money Web site. The study used data from the Census Bureau, but also relied on a private data company to make projections for 2005 because the Census Bureau had not released 2005 data at the time of the study.
Since then, the Census has released 2005 numbers that show the Lawrence/Douglas County job growth rate was slower than CNN/Money projected. It actually ended up at 0.8 percent for the 2000 to 2005 period.
Copyright 2018 The Lawrence Journal-World. All rights reserved. This material may not be published, broadcast, rewritten or redistributed. We strive to uphold our values for every story published.