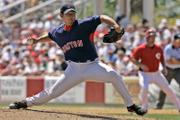 Jorge Julio is on his way to Florida to become a closer again, while Kerry Wood is headed back to the disabled list - and Freddy Sanchez could be next.
The Marlins found an experienced reliever to work the ninth inning Monday, acquiring Julio and cash from the Arizona Diamondbacks for pitching prospect Yusmeiro Petit.
Julio has 99 major-league saves, including 16 last season, and is expected to become the closer in a young Marlins bullpen.
"It's good for me, because this team is giving me the opportunity to be the closer," Julio said in Tucson, Ariz. "I'm so happy."
The 28-year-old Julio went 2-4 with a 4.23 earned-run average in 62 appearances with the Diamondbacks and New York Mets last year. The right-hander was Arizona's closer for part of the season, earning 15 saves in 19 chances.
Julio began his career with Baltimore in 2001 and saved 83 games for the Orioles from 2002-04.
"We thought it was the right thing to do, given the composition of the bullpen, to bring in the experience, a guy who has closed, and push some other components back in the 'pen," Florida general manager Larry Beinfest said.
Wood's chances of being ready for opening day were dashed by another injury.
The Chicago Cubs' former ace hurt his right shoulder pitching in relief Sunday and was experiencing more stiffness than usual Monday, one week before the Cubs open the season in Cincinnati.
Wood, converted from starter to reliever, will not be ready for the first game.
"No, that's not going to happen," manager Lou Piniella said in Mesa, Ariz. "Let's just hope it's not serious and he can resume preparing himself. Obviously, we'll give him time."
Sanchez, the NL batting champion last year, is also in danger of starting the season on the DL.
The Pittsburgh Pirates' second baseman, frustrated with a slow-to-heal knee injury, sought a second opinion that confirmed the team's evaluation of a sprained right knee ligament.
The New York Mets will be without reliever Duaner Sanchez even longer than expected. He has a broken bone in his pitching shoulder and is expected to be sidelined until at least August.
In another trade, the Los Angeles Dodgers, seeking a right-handed hitting outfielder because of a potential season-ending injury to Jason Repko, acquired Brady Clark and cash from Milwaukee for reliever Elmer Dessens.
In other news, pitcher Jake Peavy was picked to start on opening day for the San Diego Padres, who plan to release infielder Todd Walker on Tuesday.
In other games:
Reds 5, Red Sox 0
At Sarasota, Fla., Daisuke Matsuzaka tossed five hitless innings for Boston, but walked five and threw 102 pitches.
Braves 6, Astros 4
At Kissimmee, Fla., Woody Williams threw 92 pitches for Houston and allowed five hits and five runs in 51â3 innings.
Cardinals 3, Marlins 1
At Jupiter, Fla., Adam Wainwright pitched six scoreless innings for St. Louis.
Tigers 6, Nationals 5
At Lakeland, Fla., star catcher Ivan Rodriguez doubled twice from the leadoff spot, and Mike Maroth pitched six innings for Detroit, allowing five runs and seven hits.
Orioles 5, Twins 3
At Fort Myers, Fla., Minnesota's Sidney Ponson pitched six scoreless innings against his former team, trimming his ERA to 3.94.
Blue Jays 2, Pirates 2, 10 innings
At Bradenton, Fla., starting pitchers Josh Towers of Toronto and Paul Maholm allowed no earned runs between them.
Indians 4, Devil Rays 3
At Winter Haven, Fla., Jeremy Sowers, yielded one run and five hits over six innings.
Yankees 5, Phillies 1
At Tampa, Fla., Mariano Rivera worked a scoreless ninth, and Kei Igawa gave up one run and three hits in five effective innings for New York.
Athletics 6, Rockies 3
At Phoenix, Eric Chavez, Nick Swisher and Milton Bradley homered for Oakland.
Cubs 8, Angels 7
At Tempe, Ariz., Chicago sluggers Derek Lee and Aramis Ramirez each had three hits and two RBIs.
Brewers 9, Diamondbacks 2
At Tucson, Ariz., Milwaukee's Claudio Vargas limited his former team to two runs in seven innings.
Giants 3, White Sox 2
At Scottsdale, Ariz., Matt Cain pitched six strong innings, and Armando Benitez got an impressive four-out save.
Mets 6, Dodgers 5
At Port St. Lucie, Fla., Brad Penny tossed four pain-free innings for Los Angeles.
Rangers 10, Mariners 6
At Surprise, Ariz., Jamey Wright gave up six hits, five runs, a pair of solo home runs and walked one in 51â3 innings.
Copyright 2018 The Associated Press. All rights reserved. This material may not be published, broadcast, rewritten or redistributed. We strive to uphold our values for every story published.