Photo Gallery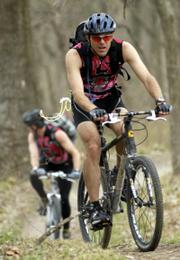 Sunflower 24 Hour race
What kind of person enters a race that involves running, hiking, orienteering, traversing, rappelling, mountain biking and paddling : for nearly 100 miles : for up to 24 straight hours?
"Crazy," said Jason Elsenraat without a second's pause. "Definitely crazy people."
Elsenraat should know.
Founder of Bonk Hard Racing and director of this past weekend's Sunflower 24 Hour - one of 15 or so so-called endurance races he has had a hand in - Elsenraat is a veteran adventure racer and multisport athlete himself.
In other words, count him among the crazies.
This weekend, though, he merely watched as 123 racers in 41, three-person teams ran, paddled, peddled and rappelled their way in and around Lawrence.
While adventure races are gaining in popularity nationwide, they are a relative rarity around here due to still waters and tame terrain.
"It's hard to market a race in Kansas," Elsenraat said. "When you think of adventure races, you think the mountains of Colorado or Georgia or Tennessee. You think of fast-flowing rivers. That's what most people think of when they think of true adventure races."
With no raging rapids or craggy rock faces at hand, Elsenraat had to improvise.
Teams canoed on the languid Delaware and Kansas rivers and at Clinton Lake and ran along the river levee trails. They traversed a course set up by the Clinton Lake dam and rappelled down the seven-story Babcock Place at 1700 Massachusetts.
"The hardest part was finding a spot for the rappel," Elsenraat said. "There are very few rock faces here, so we decided to have one off Babcock Place. That's a 70-foot rappel, so that's not too bad."
All told, the course consisted of about 19 miles of trekking and running, 231â2 miles of canoeing and about 49 miles of mountain biking, both on and off road.
The race started at 7 a.m. Saturday at the spillway at Perry Lake. The first two teams in - Minneapolis-based Wedali 1 and Wedali 2 - crossed the finish at Centennial Park at 10:16 p.m. Saturday.
The last teams to trickle in did so early Sunday morning.
'It's so miserable : '
Brandon Bundy, a veteran adventure racer competing in his eighth adventure race, was on the coed team Cycle City that placed 27th, in just over 20 hours. Bundy's bunch trundled into the finish line just before 4 a.m. Sunday
Bundy, a Kansas University graduate student from Wichita, teamed with Kelsey Miller and Chris Hershey, both of Kansas City, Mo., who were adventure-racing newbies.
Because teammates must stay within 100 feet of each other throughout the course of the race, teamwork is key.
"I look for teammates that are fun to be around," Bundy said. "It's so miserable to be out there at 3 a.m. You're cold and tired in general. It's nice to have someone you can joke with."
It also helps to have teammates that share common goals.
"There is a chemistry thing," Bundy said. "If one person quits, it ruins the whole team."
Thoughts of quitting - especially in the wee hours - were strictly forbidden.
"As soon as that enters anyone's though on the team, it's like a virus," Bundy said. "If it ever came up, I'd just change the subject immediately."
Who does it?
So, back to the original question: What kind of person enters an adventure race.
Curiously, Elsenraat says otherworldly fitness isn't a prerequisite for adventure racing.
"People come over from mountain biking, running, paddling," he said. "There is a wide range of athletes. Definitely endurance athletes. The thing is, you don't have to sprint the entire way. There are times people can walk. You can sit down, take a break. You don't have to be in top shape to finish one.
"Of course, if you want to win or even come in in the top five or top 10, you have to do everything pretty well. Most successful racers are the good navigators that also do every discipline well. Navigation is the key to any good adventure race. If you get lost, you can't win the race."
To that end, Bundy had a bit of a homefield advantage.
"I kind of had some local knowledge," he said. "If it was in Lawrence, on the river trails or Clinton Lake, I knew where we were going. : Someone from out of town might have had a hard time finding the Campanile. That was one of the checkpoints. Other than that, they were pretty easy to find."
One of the most unusual aspects of the Sunflower 24 Hour - the rappel down Babcock Place - wasn't so easy, and it turned out to be Cycle City's undoing.
Bundy bailed, opting for a 15-minute penalty rather than tackle the rappel. Teammate Miller got her hair tangled on the rappel and dangle for 10 minutes before getting untangled.
Other than that, Bundy's team had a relatively uneventful time.
"It went all right," he said. "I finished."
Copyright 2018 The Lawrence Journal-World. All rights reserved. This material may not be published, broadcast, rewritten or redistributed. We strive to uphold our values for every story published.