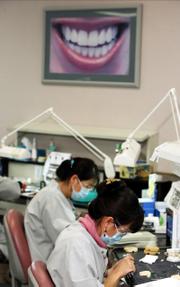 Megan from marketing got two televisions, a DVD player, an Xbox 360 and two iPods. Vicki from training got a digital camera, a GPS navigation system and a Bose speaker dock with her iPod. Ben and So Youn, the couple from the lab, got a 42-inch flat-screen TV for their living room.
And the list goes on for workers at Ottawa Dental Laboratory outside Chicago. Their health plan gives them "bucks" for getting in shape, quitting smoking, lowering their cholesterol or managing chronic conditions such as diabetes or asthma. They use the bucks to get merchandise on the health plan's Web site - items including luxury watches, barbecue grills and mountain bikes.
"The shopping is great," said Vicki Stacey, 53, who earns her bucks by, among other things, exercising at least four times a week. And "I feel real good," she said. "I have more energy."
Exasperated by ever-rising health-care costs and frustrated that conventional health plans fail to promote good health, a growing number of U.S. employers and their insurers are enticing workers to stay healthy with prizes, discounted insurance and even cash.
Comprehensive efforts
What began a few years back with a gift card here and a coupon there is evolving into a much more comprehensive effort by companies, health benefits experts said.
At IBM Corp., employees get as much as $300 a year for exercising regularly, quitting smoking or logging on to the company's preventive-care Web site.
Blue Shield of California, which insures 300,000 of the state's public workers, began offering them as much as $200 this year for things like filling out a health-risk assessment form and exercising.
Banking giant Wells Fargo & Co. deposits as much as $500 a year into medical savings accounts for workers with chronic conditions such as diabetes who follow recommended diet, exercise and drug regimens. Wells Fargo's health plan provider, UnitedHealth Group Inc., one of the nation's largest, said it was rolling out similar incentives to more than 2 million members this year.
Workers say these approaches give them the added motivation they need to drop a few pounds or quit smoking. Employers say these methods should pay off on the bottom line too, because healthier workers have less absenteeism and are more productive.
Worth the cost?
Whether these tactics will decrease health-care costs in the long run remains to be seen, experts said. If the benefits are too rich, they might end up costing more than they save. Too little or unsustained and workers eventually will lose interest. But the rewards are getting workers' attention, at least.
At Johnson & Johnson, employees get a $500 discount on their health insurance if they participate in the company's disease-prevention program, which includes filling out a form to identify possible health risks. Before the incentive, about a quarter of employees filled out the form. Now more than 90 percent do.
Some say the practices might end up rewarding those who already are healthy while doing little to reduce costs for the sick.
"Many of the people who take you up on this are people who were going to do it anyway," said Gary Claxton, a researcher with the Kaiser Family Foundation, a health-care think tank.
But proponents say the change is worth trying because the current medical system isn't working. Americans are getting less healthy while health costs keep rising.
With the country's medical bill expected to reach $4 trillion and consume a fifth of economic output in a decade, prevention is more urgent than ever, nearly everyone in the health-care debate agrees. Gov. Arnold Schwarzenegger recently proposed making prevention programs mandatory for health plans sold in California.
Finding incentives
Health maintenance organizations, which proliferated in the late 1980s partly on hopes they would promote wellness, have done little to boost disease prevention because most are about controlling costs rather than managing care, some experts say.
Conventional health insurance isn't doing the trick either, experts said. Co-payments and deductibles have gone up across the board but not enough to affect behavior, experts said. Most consumers do not equate their bad habits with higher health-care costs, because bad behavior takes years to take a toll while out-of-pocket costs are felt immediately and perceived as something arbitrarily imposed by insurance companies.
Moreover, raising out-of-pocket costs too much can have the effect of making already sick patients skip needed care, which only worsens their condition and the ultimate cost of their medical care.
"Currently, there is no incentive for people to behave any differently," said Steve Burd, chief executive of supermarket chain Safeway Inc. and a vocal proponent of making workers more accountable for their health and health-care costs.
Two years ago Safeway, the parent of Vons and Pavilions, introduced a health plan to its nonunion workers that fully covers preventive care such as cancer screenings and smoking cessation programs, while penalizing smokers with a $758 surcharge in annual premiums.
Other employers have cracked down on smoking as well. A number of companies refuse to hire smokers.
Copyright 2018 The Lawrence Journal-World. All rights reserved. This material may not be published, broadcast, rewritten or redistributed. We strive to uphold our values for every story published.