Kansas University at one time this season was referred to as a "soft team."
No longer, as evidenced by the Jayhawks' 6-1 record in games decided by four points or less.
"The first day I was at KU, I got fouled hard, the whole team came over and helped me up. I was like, 'I'm good,'" said Russell Robinson, who grew up playing on the cement courts of New York.
"We all care for each other, but you get knocked down now, you might not get helped up, this time," he added. "They say, 'Get up. Suck it up.'
"We definitely have a different huddle than my freshman year," Robinson added. "Guys show more aggression - more than the past."
Asked who helped him up the first time he was knocked down, he grinned and said: "A. Miles," referring to point guard deluxe and one of his role models, Aaron Miles.
¢ Collins OK: KU freshman Sherron Collins, who has been suffering from tendinitis in his left knee, said Friday he was ready to play.
"It's fine. I just had to get it loose," Collins said. "It's not bad at all. It's all right."
¢ Brown in town: Philadelphia 76ers executive Larry Brown, who coached at both KU and UCLA, will attend today's game.
"I haven't talked to Larry about it," KU coach Bill Self said of Brown's team of choice. "But since we're probably the ones getting him the tickets, I think he should be for Kansas."
Self was a grad assistant on Brown's 1986 Final Four team.
"Knowing coach, he won't cheer either way. I mean I only worked for him a year," Self said. "But he's really proud of both places. I think UCLA was a place he loved, and I know Kansas was as well. He's been a couple of places. He's got some things to judge it against. I think he may be secretly involved trying to cheer on one team or another, but I don't see him being actively involved."
UCLA coach Ben Howland said: "I'm sure he'll be rooting for Bill out of friendship and deference to a former assistant coach."
Photo Gallery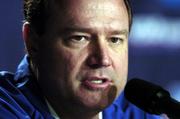 KU prepares for UCLA
¢ Card lovers: The Jayhawks have spent most of their free time lounging at the team hotel.
"We hang out and play Spades in my room," Darrell Arthur said of the popular card game.
"Me and (Jeremy) Case are 3-1. We lost to Mario (Chalmers) and Brandon (Rush) last night. We only play them. Nobody else knows how to play."
Case said: "Time goes fast when we play Spades. Last night was our worst go at it, but we made out winners two to three times before that.
"The thing is, he really is good at dominoes," Case said of Arthur.
Who brought the dominoes to Calilfornia?
"Shady did," Case said of Arthur.
¢ UCLA has most fans: KU coach Self said he thought UCLA would have a homecourt advantage of sorts today.
"I expect it'll be 15,000 to 3,000 (fans)," Self said. "I don't know if it's a road game, but it'll be close. Our guys will be focused."
"Nothing we can do about it. It is what it is," Robinson said. "We have to come out and be prepared. We've been in a lot of hostile environments this season and done well."
"We're going to have a tight huddle," Sasha Kaun said. "It's going to be a lot more fun playing this type of game."
"I think we play our best basketball when our back is to the wall," Chalmers said. "I think our back will be to the wall with the UCLA crowd here. We've got to try to take the crowd out early."
UCLA's Darren Collison said he hoped the fans would be loud for UCLA.
"It's definitely to our advantage," Collison said. "We feed off the crowd. It was great last night (in Thursday's win over Pitt)."
¢ You can go home again: KU assistant Kurtis Townsend was born and raised in San Jose, Calif., site of tonight's game. His brother, Raymond, was a star player at UCLA and will attend today's game.
"He assured me he'd cheer for Kansas because I left him tickets," Kurtis said of Raymond, who runs a school for disadvantaged youth in San Jose.
"He has a big heart," Kurtis said.
Asked if it was a thrill for today's Elite Eight game to be played in his hometown, Kurtis Townsend said: "Yes, I just wish my mother was here. She passed away four years ago. We all would meet at the Final Four every year. She loved this time of year."
Townsend's dad will be on hand today.
¢ All in the family: KU senior associate athletic director Larry Keating said he had no mixed emotions about today's game. His son, Kerry, is an assistant at UCLA.
"I am rooting for us. I'm telling you now I have no qualms," Larry said. "He knows that. His mother knows that. He has 30 years to go to the Final Four. We have a couple left."
"It's nice our family will have somebody go there," Kerry Keating said of the Final Four. "I guarantee you there will be a Keating at the Final Four. We won't be disappointed either way."
¢ JaRon texts Brandon: Brandon Rush's brother, JaRon, attended UCLA for two seasons.
"He texted me last night. He just wants me to play a good game," Brandon said.
Howland was asked if he tried to recruit Rush.
"We made a call. His brother played at UCLA. He wanted to stay close to home," Howland said.
¢ On Wright: Rush on Julian Wright's sometimes out-of-control play on the court: "We call him 'Wild-out,'" Rush said. "He's wild out on the court sometimes."
¢ Howland on KU: "They are by far the hottest team in the tournament. They've been killing people, crushing people."
Copyright 2018 The Lawrence Journal-World. All rights reserved. This material may not be published, broadcast, rewritten or redistributed. We strive to uphold our values for every story published.