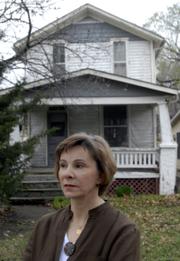 The city is being asked to undertake a $300,000 program to register and inspect every rental unit in the city as concerns grow that renters are living in substandard conditions.
Representatives of the Lawrence Association of Neighborhoods are seeking a new city inspection program after seeing several rental homes deteriorate to the point that they've become candidates for demolition.
"We're concerned for the safety of the students because of the condition of some of the property that is being rented," said Candice Davis, a representative of the Lawrence Association of Neighborhoods and a resident of Oread Neighborhood, which is largely rental.
The city currently has a rental registration program, but it only is for rental properties that are in single-family zones. It does not include apartment complexes or rental homes that are zoned for multi-family use.
That includes most homes in the Oread Neighborhood, Davis said. She said those rental units are not inspected unless they are remodeled and require a building permit.
"Some of these places have gone on for 75 years, probably, with nobody but the tenant getting inside," said Davis, who suspects there are many units with electrical code or fire code issues. "I think that's wrong."
City commissioners are scheduled to discuss the idea at their 6:35 p.m. meeting Tuesday at City Hall, Sixth and Massachusetts streets.
Landlord concerns
Several landlords on Friday said they have concerns with the idea. James Dunn, who also lives in the Oread Neighborhood, has about 100 units that would be affected by the new registration program. He said the program would be an unnecessary expansion of government bureaucracy.
"It just opens the door up to all kinds of ideas for the city to fund its budget through rental registration fees," Dunn said.
Bob Ebey, a Lawrence landlord who serves as legislative liaison for Associated Landlords of Kansas, said the city was prematurely considering the new system because the city's current system to register single-family rental homes is currently being challenged in federal court. Two Lawrence renters - backed by landlord interests - have sued the city in federal court claiming that the inspection process violates the constitutional prohibition on unreasonable government searches and seizures. A federal judge has upheld the city's system, but that ruling has been appealed to the 10th Circuit Court of Appeals.
Both Ebey and Dunn also said the new system was unnecessary because the city already had a system that allows any renter to call city officials and report a housing code violation. Such complaints trigger an inspection of the rental unit.
But Davis, who also is a landlord, said many tenants don't report problems to the city because they fear a loss of their rental deposit or retaliation from their landlord.
Program needs
Brian Jimenez, code enforcement manager for the city, said his department receives about 100 to 150 complaints per year from renters. He said the vast majority of the inspections do uncover housing code violations.
But Jimenez and city staff members are not making a recommendation on whether the city should start the new program. That's in part because the new program would require significant amounts of new personnel.
Staff members are estimating that it would take four inspectors and two administrative support positions to staff the program, assuming that each rental unit would be inspected once every three years. Total first-year cost for the program would be about $315,000. The costs could be recouped through a fee. Currently, the city charges $25 per unit to inspect single-family rental homes.
The city's Neighborhood Resources Department, which would oversee the program, estimates that the program would add at least 12,000 additional units to the city's inspection work. According to census data - which estimates about 55 percent of all housing units in Lawrence are rentals - the number could be closer to 16,000 units.
The size of the project should cause city commissioners to think long and hard about adding the program, Mayor Mike Amyx said.
"When you stop and consider that we'd be registering and inspecting more than half the homes in Lawrence, I'm not sure how well we can handle all of that," said Amyx, who also is a landlord.
Several of the larger apartment complexes and management companies in town either declined to comment or said they weren't yet familiar enough with the proposal to comment on it when reached Friday. Attempts to reach an attorney for the Lawrence Apartment Association also were unsuccessful.
Copyright 2018 The Lawrence Journal-World. All rights reserved. This material may not be published, broadcast, rewritten or redistributed. We strive to uphold our values for every story published.