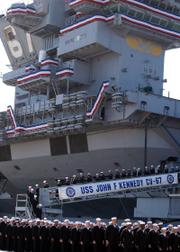 Mayport, Fla. — The first skipper of the aircraft carrier USS John F. Kennedy was surrounded Friday by shipmates wanting an autograph, a picture or just a chance to talk about old times.
But for Adm. Earl P. Yates, the ship's captain from 1968 to 1969, the decommissioning of "Big John" after nearly 40 years of service was a little sad.
"I feel like crying," he said.
Yates was among the 19 of 29 former Kennedy captains who attended the ceremony presided over by the final skipper, Capt. Todd Zecchin. The event ended with the lowering of the ship's flag and more than 2,000 sailors in dress blues marching off for the last time.
"What a bittersweet day. It is a glorious breath of life we've filled the ship with," Zecchin told about 7,000 former crew members and military dignitaries gathered at Mayport Naval Station, the carrier's home port for the last 12 years.
The Kennedy looked as if it had just come from the shipyard, its gray paint gleaming and its top encircled by red, white and blue bunting. As officials arrived, two volleys of six shots each were fired in salute.
The ship was active in both Iraq wars and launched aircraft into hot spots around the globe, including Afghanistan. At 1,050 feet long, it once carried a crew of about 4,600 and 70 combat aircraft. Its decommissioning crew was about 2,800.
Zecchin called the crew "a profile in courage," a reference to President Kennedy's Pulitzer-prize winning book, "Profiles in Courage."
None of the Kennedy family attended the ceremony. They said their goodbyes during a port visit to Boston about three weeks ago.
Adm. John B. Nathman, commander of U.S. Fleet Forces Command, called the Kennedy "an icon of American might and freedom."
Gary Wright, 60, an original crew member, traveled from Baltimore to see the ceremony. The aviation technician from 1968 to 1971 said his mother still has a piece of the commissioning cake in her freezer.
"I don't know why she wants a 38-year-old piece of cake," he said.
The Kennedy entered Navy service in September 1968, more than a year after it was christened by the slain president's then-9-year-old daughter, Caroline. Its in-port cabin was designed by his widow, Jacqueline, and is the only room on a Navy ship with wood paneling, officials said. One of its paintings shows the president sailing with his daughter.
The cabin will go to a Navy museum. The carrier will be towed to Philadelphia, where it will be placed on inactive status.
The Kennedy recently served as a training platform for Navy pilots to obtain carrier landing qualification. The Navy suspended the ship's flight operations about a year ago, citing faulty landing equipment.
The decommissioning of the steam-powered Kennedy leaves the USS Kitty Hawk as the only Navy aircraft carrier that does not run on nuclear power. Zecchin is headed to Japan to supervise the decommissioning of that vessel.
Copyright 2018 The Associated Press. All rights reserved. This material may not be published, broadcast, rewritten or redistributed. We strive to uphold our values for every story published.