San Jose, Calif. — Bill Self today tries to join an elite group of college basketball coaches: those who have made it to a Final Four.
"I don't want to say it'd mean everything. It's not life or death, but it'd mean a ton," Self, Kansas University's fourth-year leader, said Friday.
He takes an 0-3 record in Elite Eight games into today's 6:05 p.m. contest against UCLA in HP Pavilion.
"Not just because, 'Bill got to a Final Four.' My dream is to take us there collectively," Self added of his No. 1-seeded Jayhawks, who have won 33 games in 37 tries. "It'd be special because of what our players have been through, how hard they've worked. We have a big roadblock in front of us in UCLA (29-5), but I do think we're capable."
Self, who has been in the business 14 years, has made nine NCAA Tournament appearances.
All three of Self's Elite Eight appearances resulted in heartbreak. His first KU team dropped a 79-71 overtime decision to Georgia Tech in 2004 in St. Louis.
His first Illinois team fell to Arizona, 87-81, in 2001 in San Antonio. His last Tulsa team went down to North Carolina, 59-55, in 2000 in Austin, Texas.
"We've been close and haven't got it done," Self said. "This is the best team we've had.
"I'm jealous of the guys that get there. I mean, not jealous to the point I wished everybody lost and nobody got there, but I'm jealous to the point I want to be in that same arena.
"But it's not about me. It's about the team. To have an opportunity to take these guys would be an unbelievably special thing, especially when it's something you dreamed of a long time."
Suffice it to say all the Jayhawks share the same dream as their coach: winning today and playing next week on college basketball's greatest stage in Atlanta.
"I've thought about it every day since I've been at KU," junior guard Russell Robinson said. "We have the opportunity to do something big. I want to be part of history. If we do things right, it'd be a great part of Kansas history."
KU has reached the Final Four 12 times. UCLA, which reached the national title game a year ago only to fall to Florida, has advanced 16 times.
"Anytime you've got an opportunity to do something big, you want to do it," Robinson said. "I just think about it every time I look at Danny (Manning, staff member) ... I just think how everybody, Lawrence, our fans love him. I think we've got a chance to be somewhere close to that."
To clip the nets today, KU must defeat a team that, like itself, starts two juniors and three sophomores.
The difference is the Bruins were in the Final Four a year ago and have that experience, as well as a California crowd, on their side.
"I don't think they have an edge. They've been there; we're trying to get there. We're hungry, too," freshman Sherron Collins said.
Photo Gallery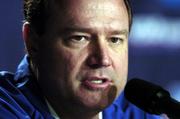 KU prepares for UCLA
UCLA, like KU's Sweet 16 foe Southern Illinois, is known for its tough defense. The Bruins have allowed just 59.6 points a game, 18th stingiest mark in the country. UCLA ranks 117th in field-goal-percentage defense (42.8).
KU, meanwhile, ranks 29th in scoring defense (61.6 ppg) and second in field-goal-percentage defense (37.3).
"They have as quick a point guard (sophomore Darren Collison) as there is anywhere. I don't anticipate it being a slowed-down game," said Self, whose Jayhawks survived SIU on Thursday, 61-58. "I can see a low-scoring game where both teams are trying to play pretty fast, but defense on both ends will be good."
The scary thing is, after watching film, the Jayhawks think UCLA can cause the Jayhawks as many problems as the Salukis did Thursday.
"I think they get out and pressure. I think they've got a more athletic backline than SIU had," Robinson said of Arron Afflalo, Collison and Josh Shipp, the Bruins' only double-digit scorers.
"I think they have more talented guys. It's going to be scary. I think we're prepared to leave it all on the court."
KU sophomore Brandon Rush thinks the Bruins, who average 71.8 points a game - the 112th best mark in the U.S. compared to KU's 79.5 mark (No. 12 ranking) - might struggle in a running contest with KU.
"I think we are a great running team. It's to our advantage," Rush said. "I am of the opinion nobody in the country can run with us with the exception of North Carolina."
The Bruins beg to differ.
"They'll allow us to push it, that'll be great," UCLA coach Ben Howland said. "We played Arizona in the 80s (81-66 win). The great thing about our team is we can play any style you want to play. We can play knock-down, drag it out. We can go up and down."
So can the Jayhawks, who proved they can survive a slugfest most recently against Southern Illinois. Whatever the style of play, KU will settle for a win of any kind and Self's first Final Four berth.
To do that, KU will have to claim its first-ever win versus the Bruins in the postseason. KU is 0-4 in NCAA play versus UCLA and 4-9 overall.
"We're overdue," Self said of the Jayhawks against the Bruins, not of his quest to become a Final Four coach.
"I don't think it makes you a better coach. I don't think Norm Stewart (Missouri) winning one more game would have made him a better coach. Or John Chaney (Temple) winning one more game would have made him a better coach. In the perception of the public, maybe there's something to that, but winning one game tomorrow will not make a guy a better coach."
Copyright 2018 The Lawrence Journal-World. All rights reserved. This material may not be published, broadcast, rewritten or redistributed. We strive to uphold our values for every story published.