San Jose, Calif. — Barbara Lauter knows her Jayhawks are still a game away from the Final Four, and three games from an elusive national title.
But now that Kansas University has stretched its winning streak to 14 games with Thursday's 61-58 bruiser over Southern Illinois, she's already looking forward to spending much of next week - and through the weekend, for that matter - in Atlanta, where she's had a two-room suite at a hotel in Buckhead reserved for nearly a year.
KU is an elite program, she said, deserving of accommodations at the top of college basketball.
"It's who we are," said the Lawrence resident, sporting a KU visor, KU earrings, two KU face decals, a KU shirt, crimson-and-blue nail polish and, in the middle of it all, a gold medallion studded with diamonds that spell KU. "We're not Syracuse, who went to the NIT. We're not Maryland, who barely made the NCAA Tournament and probably shouldn't have, and then lost early.
"We are who we are, and we can always be proud of it."
The Kansas fans who made it to HP Pavilion - those who snapped up 1,250 tickets through the university, some of the 1,000 or so available this week at the arena box office or others available through brokers and similar outlets - know that only half of their work is done.
Photo Gallery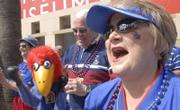 NCAA Tourney: KU vs SIU
They're at the midpoint of the West regional, with the final set for 6:05 p.m. Saturday against UCLA. And they're halfway to a national championship, to be settled April 2 at the Georgia Dome.
"We need to win," said Tom Low, a 1997 KU grad who lives north of San Jose. "We need to get to the Final Four and win a championship. It's been too long."
Copyright 2018 The Lawrence Journal-World. All rights reserved. This material may not be published, broadcast, rewritten or redistributed. We strive to uphold our values for every story published.