San Jose, Calif. — To hit the three first requires being able to launch the three.
In Thursday's 61-58 victory over Southern Illinois, Kansas University did both fewer times than usual. The Jayhawks hit just one trifecta against a sticky Saluki perimeter defense, which goes down as a season-low in the category.
"What we anticipated was that you're not going to run offense (against their defense), so you drive it," KU coach Bill Self said. "What was disappointing to me was that we had a chance to shoot more threes than that, but I don't think our players were very confident the first 30 minutes of the game, to be honest with you."
But instead of that being the sinker for KU's season, it wound up being another notch on the belt, adding another method to the different ways the Jayhawks have had to squeeze out a victory this year.
"We only shot, like, four threes today," KU sophomore Brandon Rush said. "So they were really guarding the three-point line. They were really up on us. I knew they were going to guard me from the three-point line because I had the big-time game against Kentucky."
Rush's math was close - KU hoisted only six attempts from deep, which also is a season-low. It wasn't just Rush the Salukis had locked down on in the NCAA Tournament, though. In victories over Holy Cross and Virginia Tech, SIU held both opponents to a combined 3-of-24 showing from three-point land.
Photo Gallery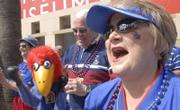 NCAA Tourney: KU vs SIU
"It was tough," said KU junior Russell Robinson, who was responsible for the team's lone three-point make. "I had some wide-open looks and had some go in and out for me. I think one thing is we didn't get down and kept attacking. I think it just took away from the total points scored. But I think we still got in the lane and did some things from there and had some guys make some plays."
Southern Illinois' defense, which forced 19 KU turnovers, was tough enough to make a couple of players admit after the game that the billing the coaching staff gave it leading up to the game didn't even do it justice.
The Saluki defense did the job in taking KU out of what it normally does, which is get up and down the floor at a fast pace and mix in the three-point shot to create separation on the scoreboard. Sophomore Mario Chalmers, freshman Sherron Collins and Robinson, who rank second, third and fourth on the team, respectively, in three-pointers made this year, were responsible for all six attempts. Rush, who leads the team with 79 deep conversions and was 6-of-7 Sunday against Kentucky, didn't put one up; Robinson was 1-of-4; and Chalmers and Collins each missed a lone second-half attempt.
Some might call it reason for panic, but in the NCAA Tournament, such is life.
"In a tournament like this, you kind of expect that," Robinson said. "And this game is going to prepare us for the next game. The next game is probably going to be similar like that. It's starting getting down to the elite teams. It's going to get tougher, and we showed we've got to be tough and be able to win any type of game."
Copyright 2018 The Lawrence Journal-World. All rights reserved. This material may not be published, broadcast, rewritten or redistributed. We strive to uphold our values for every story published.