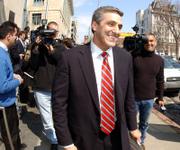 SCRANTON — The city of Hazleton tried to "scapegoat and demonize illegal immigrants," blaming them for crime, overburdened schools and other problems, an ACLU lawyer said Thursday at the close of a federal trial over the town's illegal-immigration crackdown.
"To lay the problems at the feet of undocumented immigrants is unfair," said Witold "Vic" Walczak, legal director of the American Civil Liberties Union of Pennsylvania.
The ACLU sued Hazleton to try to overturn new city rules that target landlords who rent to illegal immigrants and businesses that employ them. U.S. District Judge James Munley will likely take months to decide whether the crackdown is reasonable.
Walczak's team argued that the federal government has exclusive power over immigration policy.
In closing arguments, the city's attorney said federal law and Supreme Court precedent clearly give Hazleton the right to enforce its Illegal Immigration Relief Act, passed last summer after a number of violent crimes involving illegal immigrants.
"These ordinances were painstakingly drafted. The constitutional violations are imagined," said Kris Kobach, a University of Missouri-Kansas City law professor.
Mayor Lou Barletta has repeatedly invoked rising crime, and particularly violent crimes, as a justification for the crackdown. Violent crime in Hazleton increased more than 70 percent since 2001.
Walczak acknowledged that Hazleton, a city of about 30,000, has endured an increase in violent crime, but he said illegal immigrants were responsible for only a few of the 428 rapes, robberies, aggravated assaults and homicides committed in the city from 2001 to 2006.
He also pointed out that Hazleton's overall crime rate declined at the same time its Hispanic population was growing.
Kobach called the plaintiffs' legal theories silly, deriding in particular the testimony of one expert witness who said only an immigration judge can determine immigration status.
"If you sneak across the border, the moment you step in the country is when you're illegal, not when some judge says two years later, 'We're going to deport you,'" he said.
The Hazleton ordinance, which the City Council revised several times for legal reasons, would impose fines on landlords who rent to illegal immigrants and deny business permits to companies that give them jobs. A companion ordinance would require tenants to register with City Hall and pay for a rental permit.
Copyright 2018 The Associated Press. All rights reserved. This material may not be published, broadcast, rewritten or redistributed. We strive to uphold our values for every story published.