We all know about most of spring's notorious bloomers - the vibrant tulips, the striking daffodils, the incredible magnolias and the showstopping forsythia. But there are a couple of lesser-known spring lovelies that I would love to see in more Lawrence gardens.
Two of my favorites are the allium and the flowering quince. Both have a uniquely Japanese feel - one with its strong architectural lines and the other with its sweeping branches and delicate blooms. But while they seem to have an Asian sensibility, one of their most alluring attributes is that they can be placed effortlessly in any garden, whether it be a modern outdoor area with bold accents and sharp lines or a crowded cottage nook with busy blooms everywhere.
Alliums
Giant alliums are fantastically unique bulbs with globular tops composed of tiny individual flowers in blues, purples, pinks and whites. These enormous blooms teeter atop long, slender, stick-straight stems. You might wonder where in the world one would root a plant that resembles a giant lollipop, but the allium is much more versatile than we tend to give it credit for being.
John McCaffrey, owner of Bittersweet Garden & Floral, 1407 Mass., says the plants should be nestled in the yard.
"I like to place alliums to either be a specimen," he says, "or to come up through other things in the garden like peonies, lilies, tulips and roses."
Ann Peuser, owner of Clinton Parkway Nursery, 4900 Clinton Parkway, has some great ideas for these distinctive bulbs as well.
"Alliums would look gorgeous with hostas," she says. "The big hosta leaves would cover the eventually dying-off foliage of the alliums that you don't want to cut off until they are completely brown and wilted."
It is wise to plant alliums in clusters of odd numbers for the ultimate statement. And, when planting the bulbs in the fall, you'll want to space them the width of one flower head apart. Because alliums are tall, people tend to plant them in the back of beds. Don't be afraid to move them forward; it's easy to see through their wispy, rotund blossoms.
Alliums will bloom April to June. Often, one bloom will last for more than a month. Even when the bloom fades, though, its seedheads are chock-full of interest for the landscape as they turn yellow and dry out. An allium's bloom ranges from 3 inches to 12 inches in diameter, with plant heights from 8 inches to 48 inches, although I must admit the giant alliums are the most gorgeous and pack more of a jaw-dropping factor than the regular-sized varieties.
Photo Gallery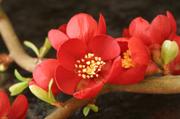 Unusual suspects
Alliums can be rather pricey, so you'll want to keep them growing and thriving as long as possible. When purchasing bulbs in the autumn, remember that big bulbs signify big blooms. Alliums prefer dry soil and don't appreciate soggy feet at any time.
"Alliums need to be fed with superphospate in early spring and some nitrogen to keep the bulb from getting smaller," McCaffrey says.
In fact, for best results, alliums should be fed three times a year - first in the spring, just as the tip of the bulb is appearing; again in the summer, after the blooms have faded and the foliage withers; and finally in the fall, when the final garden clean-up is being performed.
Quince
I love my flowering quince. As it blooms, I bring in armloads of branches and create fabulous ikebana-inspired floral arrangements. It's one of the most happy moments for me each spring. Ever since I introduced quince into my garden, I honestly don't think I could live without it now.
Peuser, too, enjoys quince because it blooms early and rabbits like it.
"Quince can go just about anywhere," she says. "They need sun, but that's it. There is a great dwarf coral-colored quince that is so unique. The color is just not a color you normally see in the palette of the plant world."
Quince is extremely hardy and versatile; it can serve as a shrub or be trained to go up a fence or wall. A relative of the rose, the quince boasts a similar prickly branch, making it a wonderful barrier plant. Its dark stems stand out in the winter months, and even after the blooms fade, the plant's petite, waxy green leaves keep the shrub looking terrific - unlike another spring-flowering shrub, the forsythia, which looks awful when not in bloom.
Quince is hardy from zones 5 to 9 and will grow in most soils. Its blossoms appear on the previous year's wood, so any clipping and pruning should be done directly after it blooms. When pruning a quince - or cutting off some branches in bloom for an arrangement - cut new shoots back to three buds from the main stem to create the "spur" that will produce more flowers for next year.
Both quince and alliums lend a distinct, architectural feel to a garden. They make fantastic cut flowers and have a wonderful visual impact long after the colorful blooms have faded. I would relish taking a walk through some of Lawrence's neighborhoods and seeing more of these unique and worthy spring beauties sown in area gardens.
Copyright 2018 The Lawrence Journal-World. All rights reserved. This material may not be published, broadcast, rewritten or redistributed. We strive to uphold our values for every story published.