San Jose, Calif. — The top four seeds remain in the West region of the NCAA Tournament, so they all are better than George Mason of a year ago, which means they all have a shot to go to Atlanta. Even so, I'll take Kansas, and you can have the field.
Sure, sitting atop the seeding chart as a No. 1 has its disadvantages. Foremost, it's nearly impossible for a team to play the Rodney Dangerfield angle. Mix in a great tradition and a team full of high fliers who have a knack for opening SportsCenter with vicious dunks, and it would be tough to imagine the Kansas University players running with a no-respect battle cry.
Don't ever underestimate these guys. They are a mighty resourceful bunch.
Much of the talk Wednesday at the West Regional news conferences inside HP Pavilion centered on the tough defense played by UCLA, Pittsburgh and tonight's KU opponent, Southern Illinois.
Someone asked Russell Robinson: "So much has been made about Southern Illinois' defense coming into the this game, do you feel slighted nobody is talking about your defense?"
Robinson seized the opportunity the way he does when he sees steal written all over a pass he senses is coming before it happens.
"Yeah, that is a good point because we do play pretty darn good defense," Robinson said.
The floodgates flew open. Sitting next to him, Sasha Kaun quickly jumped on the theme. Meanwhile back inside the locker room, others were chiming in.
-->
"Yeah, I think our defense is getting overlooked," Mario Chalmers said. "We've got a very good defensive team, and that's what helped us win most of our games, is our defense."
Sherron Collins: "We're one of the best defensive teams in the country. I don't think we get too much credit for it yet."
You can see it coming Saturday, when the Kansas players are cutting down the nets, a twine at a time, each will voice a variation of "Nobody gave us a chance. Everybody wrote us off."
Whatever works.
The truth is, the longer you look at the four remaining teams, the more difficult it becomes to envision anyone but Kansas advancing. The others play terrific defense, but so does Kansas. There's a reason the other three defenses get talked up more. There isn't as much else to talk about with them.
Photo Gallery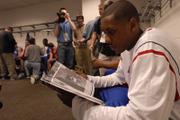 KU prepares for SIU
Southern Illinois has the Missouri Valley Conference Player of the Year. Senior guard Jamaal Tatum has a three-point field-goal percentage of .422, compared to .292 last season. Even so, if Julian Wright, Brandon Rush, Russell Robinson or Sherron Collins played in the Mo Valley, Tatum might not have won the award. Salukis junior forward Randal Falker was the conference's Defensive Player of the Year. Then again, he didn't have to compete against Russell Robinson for the award.
Pitt does have a pair of big men (Aaron Gray and Levon Kendall) who are a handful, and UCLA's backcourt (Arron Aflalo and vastly underrated Darren Collison) is among the nation's best, but none of the other teams is as amazing in transition or as multi-faceted offensively as Kansas.
In the minds of the players, this Kansas has it all, save the respect of others. Perfect mind-set.
Copyright 2018 The Lawrence Journal-World. All rights reserved. This material may not be published, broadcast, rewritten or redistributed. We strive to uphold our values for every story published.