It seemed as though it would be difficult to get a ball out of Hoglund Ballpark on Wednesday, with the strong winds blowing in from right field during the Kansas University baseball squad's doubleheader against Northern Colorado.
However, each team hit a decisive home run as the teams split the series. KU won the first game, 5-4, and UNC prevented the sweep with a 4-2 victory in game two.
"The only place you could get a base hit today was left field," Kansas coach Ritch Price said. "Every ball hit to center and every ball hit to right was knocked down throughout the entire doubleheader."
With game one tied in the bottom of the sixth, Kansas got a pinch-hit homer from red-shirt junior Eric Snowden - his first home run at the collegiate level.
"Coach Price said to me before I got up to bat, 'You've got one swing. Win this thing,'" Snowden said. "I just tried to get myself pumped up for the at-bat and go in with the right mind-set that I'm going to get a hit. I got a good pitch, got it up in that Kansas wind and got lucky.
"It felt pretty good, though. It felt pretty good to get that off my back. I've been here for four years now, so to get that first one off my back is pretty exciting for me."
The home run gave Andres Esquibel (4-1) the win with his 22â3 innings work, while Paul Smyth finished the ninth to pick up his fourth save of the season.
Photo Gallery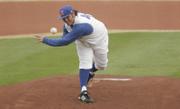 KU baseball vs. N. Colorado
Game two got off to a bit of a rocky start for Kansas. Starting pitcher Thomas Marcin had some control issues. In one inning of work he threw two wild pitches, hit three batters and threw a pickoff attempt past the first baseman. He was pulled in the second inning but did not give up any runs.
"He's got great stuff and a great make-up, but we've got to get him some help, see if we can get him over those 'yips' that he's got right now," Price said. "We're probably going to have to give him a little mental break right now. If you study the guys who have throwing problems every once in awhile, it's usually the guys that are the best kids in America, that the game's really important to, that are really disciplined and hard working, and he fits the profile of a guy that could potentially have problems. But he's also that guy that will work through it, too, because he has such great make-up."
Ryotaro Hayakawa came in to relieve Marcin and was pitching well with five strikeouts and no walks until he gave up a two-out, three-run blast - just an inning after Ryne Price tripled in Erik Morrison and Robby Price to give the Jayhawks a two-run lead - that put the Bears on top for good.
"He left the ball hanging out over the plate for him, but if he didn't get us through the second inning I don't know what could have happened to the score because it could have gotten really ugly," said Price of Hayakawa, who came in with runners on second and third in the second inning. "But that's one of his best performances since his sophomore year."
The Jayhawks will begin their Big 12 Conference home opener with a three-game series against No. 14 Oklahoma State starting at 5 p.m. Friday at Hoglund Ballpark.
Copyright 2018 The Lawrence Journal-World. All rights reserved. This material may not be published, broadcast, rewritten or redistributed. We strive to uphold our values for every story published.