Photo Gallery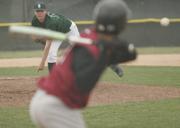 Free State baseball vs. K.C. Washington
Attention Free State High students on the beach, in the mountains, on the water or wherever you may be on spring break: Kyle Cross and John Wilson aren't missing it a bit.
"I could be out on a beach, but I love baseball," Cross said. "I would consider this my spring break."
Echoed Wilson: "I've haven't been on spring break since I was a kid. I've always played baseball."
Cross and Wilson both posted career days Wednesday as the Firebirds opened the baseball season with a 33-0 romp over Kansas City Washington at the FSHS diamond.
Cross, a senior outfielder, belted a pair of grand slams and drove in 11 runs. Wilson, a junior third baseman, went 5-for-6 with a grand slam, a two-run circuit shot and nine RBIs.
With a gusty wind blowing toward left field, both Cross and Wilson hit their homers in that direction.
"It was a great day to hit, obviously," Cross said.
Added Wilson: "On my grand slam, the wind just carried it out."
Cross, who is headed to Highland Community College this fall, is one of the few returning starters from last year's Class 6A state championship team while Wilson spent most of his time last spring with the junior varsity.
"John paid his dues last year," Free State coach Mike Hill said. "We think he has an opportunity to play at the next level, too."
Free State sent 21 players to the plate during a 17-run first inning. Cross drove in six of those runs with his first grand slam and a two-run double. Wilson singled and hit a two-run homer during that 35-minute marathon.
The Firebirds added three more runs in the second to take a 20-0 lead, and the game normally would have ended after the Wildcats failed to score in the top of the third because the mercy rule is invoked when a team leads by 15 runs after three innings.
Both coaches agreed, however, to continue competition in order to give their pitchers more live work. Finally, after Washington put up a goose egg in the top of the fifth following a 12-run fourth-inning outburst by the Firebirds that featured Cross' second salami, they called it off.
"The most important thing, since it was the first game," Hill said, "was evaluation. I think this was the right situation for that."
Hill lost all the pitching from last year's 6A state champs. In Wednesday's opener, he used four juniors on the mound. Left-hander Cody Lown went the first two innings, followed by Caleb Gress in the third, Alex Hardman in the fourth and E.J. Swanson in the fifth.
That Free State pitching quintet allowed only two harmless singles. Meanwhile, four Washington pitchers allowed 15 hits - including the four home runs - issued 14 walks and hit six Firebirds with pitches.
Free State figures to face a much stronger test when it plays host to Blue Valley Northwest on Friday afternoon.
"Absolutely. No doubt," Hill said. "This game had value, but there's no question on Friday we'll have to step up our game. We have a bunch of question marks, particularly on the mound."
Copyright 2018 The Lawrence Journal-World. All rights reserved. This material may not be published, broadcast, rewritten or redistributed. We strive to uphold our values for every story published.