This spring, your clothes can be bright. Or they can be neutral. Or even a way-before-Memorial-Day white. Easter egg colors, however, need not apply.
Striking colors, not ornamentation, are making this season's must-have mini-dress look special, said Sally Singer, Vogue's fashion news director.
But, Singer acknowledges, not everyone wants to wants to be that bold. An easy way to give at least a nod to the Crayola palette is a bright yellow or green shoe, she suggests.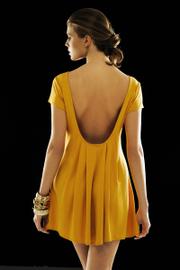 "At the beginning of spring, a pop of color attracts your eye," said Stacey Bendet, designer and founder of Alice + Olivia.
(According to Pantone Inc., the color research and information center, the top shades this season are strawberry ice, a shiny opal gray and a bright sky blue.)
Francisco Costa, creative director for Calvin Klein Collection, says he was drawn to bright yellow in his collection because it's very straightforward.
"I just wanted something to be energetic," he said. "Yellow is a given for that. It's fresh, it's bright, it's eccentric. Also, being a primary color - I thought that was cool, too. I like colors in their primary form."
But both Costa and the Calvin Klein label are neutralists at heart. The flash of yellow really was an exclamation point for a collection of mostly shades of white that also had a few indigo-colored pieces.
The shape of clothes is what everyone is concerned with right now, and if you have interesting shapes with too many colors, it can be distracting, Costa said. "I like to isolate an element - the stones, grays and whites, everything is back to nature, space and clean air, light and sun."
Nature and its shades of brown, tan and green, are a prominent theme in Macy's stores right now, and Saks Fifth Avenue senior fashion director Michael Fink says a palette based on creamy ecrus and sand colors is very soothing. Meanwhile, at Bloomingdale's the emphasis is on pop-art graphics with splashes of yellow, orange and green.
White is the glue that holds all the disparate looks together.
"White is a big thing. We've never seen white quite this early," Wolff says. "It's a fashion color, not a thing you wear only after Memorial Day."
Copyright 2018 The Associated Press. All rights reserved. This material may not be published, broadcast, rewritten or redistributed. We strive to uphold our values for every story published.