Raleigh, N.C. — Kay Yow hugged her players as photographers took shot after shot. Then North Carolina State's coach turned to the fans, smiled and triumphantly extended both arms to hold up a Wolfpack hand gesture.
The fans responded by giving her a standing ovation as she left the court.
It was truly a moment to savor for the Hall of Fame coach and her fight-to-the-
finish Wolfpack.
Khadijah Whittington scored 15 of her career-high 23 points after halftime while pulling down 11 rebounds. Shayla Fields knocked down a three-pointer in the final minute of overtime shortly after missing key free throws late in regulation. And when it was over, the Wolfpack had held off Baylor 78-72 on Tuesday night to earn Yow's first trip to the NCAA tournament's round of 16 in six years.
It certainly wasn't easy for N.C. State (25-9), the fourth seed in the Fresno Regional. The Wolfpack bounced back after blowing an 11-point lead midway through the second half, then evaded what would have been a crushing loss in front of its home fans when Bernice Mosby missed a shot on the final play of regulation.
That sent the Wolfpack to its 12th win in 14 games since Yow returned from a 16-game leave to concentrate on her cancer treatment. She was diagnosed with breast cancer in 1987 and it first recurred during the 2004-05 season.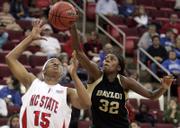 Her team will face the Connecticut-Wisconsin-Green Bay winner. And Yow figures her team is playing on more than just emotion.
"I know they want to win for me in that sense," Yow said. "I really am grateful and appreciate the fact that they do, but I think they're a real team. I think they can play with that kind of spirit every time they go out."
Whittington proved that against the fifth-seeded Lady Bears (26-8) despite feeling sick in the first half. The 6-foot-2 junior, averaging 10.1 points and 10.5 rebounds, came up with seemingly every key rebound or basket while also slowing Mosby - who finished with 26 points but had just nine on 3-for-15 shooting after halftime.
"I felt kind of sick, but this is it, so I had to suck it up," Whittington said.
She finished 11-for-20 from the field and also had three steals and two blocks in 38 minutes.
"KD really wanted the ball tonight and really went to work on the inside," Yow said.
Copyright 2018 The Associated Press. All rights reserved. This material may not be published, broadcast, rewritten or redistributed. We strive to uphold our values for every story published.