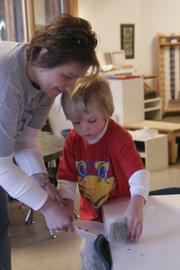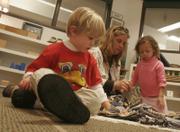 Where to find it
"Cooking for Gibson," a cookbook organized by Cub Scout Pack 3013 to help the family of Gibson Huston, is available online at www.cookingforgibson.com. It also is available at Raintree Montessori School, 4601 Clinton Parkway, and at Bambino's Italian Cafe, 1801 Mass. The cost is $18.
When Gibson Huston had seizures, there was no hiding them from his classmates at Raintree Montessori School.
"It was pretty trying when the whole thing started up," says Monte Turner, whose son was in Gibson's class. "You could tell it affected the kids in his class. They were very concerned."
So it's only fitting that Raintree students are involved in Gibson's recovery process as well.
Cub Scout Pack 3013, which meets at Raintree, 4601 Clinton Parkway, and is composed mostly of students there, has compiled a cookbook to help pay for the Hustons' medical expenses.
It's been nearly six months since 4-year-old Gibson underwent radical brain surgery aimed at alleviating his seizures. On Sept. 27, a surgeon at the University of California-Los Angeles removed a third of the left hemisphere of Gibson's brain and disconnected the other two-thirds.
For more than a year, he had around four seizures a week caused by hemimegalencephaly, a condition that caused the left side of his brain to develop faster than the right side. Without the surgery, he would have had an exceedingly low IQ as an adult.
Gibson hasn't had a seizure since the surgery, and the three medications he was on before have been reduced to one.
"There's a 75 percent chance that the surgery works, and he'll never have a seizure again," says Saasha Huston, Gibson's mother and a teacher at Raintree. Her parents founded the school.
Gibson, who has been back in class since November, is undergoing physical and occupational therapy.
He has limited use of his right hand and has difficulty walking straight. He also has a section of his vision where he can't see.
But his speech has improved dramatically since the surgery. Before, he often had trouble coming up with words.
"He's not quiet," his mother says. "He's talking all the time."
A March 5 visit to UCLA showed good progress, Huston says. Most of Gibson's follow-up appointments have been at Children's Mercy Hospital in Kansas City, Mo.
Sometimes, when Gibson wants to talk about the surgery, he just starts by saying, "I was sick ..."
"He's been through so much, but he's got such a positive outlook on everything," Huston says. "I just hope he can develop up to his full potential over the years to come. I hope this doesn't stand in his way in any way."
Huston says a cookbook is a fitting tribute to her son, since he loves to eat pretty much anything. Fruits are his favorite.
"I felt so lucky they thought of Gibson," Huston says.
Turner, the Raintree parent who also leads the Cub Scout pack, says he hopes the cookbook can help cover a small portion of the costs involved in Gibson's surgery.
"I know the travel expenses are killing them," Turner says. "That can be one of the things it can go for. There is a ton of stuff you need when you go through something like that."
The cookbook includes recipes compiled by families in the pack, as well as food facts and quotes from the family members.
Turner says it's been good the boys in the pack to know the face behind their service project.
"The kids in the pack really care about Gibson," Turner says. "It's good to see they can help someone they know."
Copyright 2018 The Lawrence Journal-World. All rights reserved. This material may not be published, broadcast, rewritten or redistributed. We strive to uphold our values for every story published.