A group of about 100 anti-war protesters rallied Monday in Lawrence to mark the fourth anniversary of the Iraq war's beginning.
The rally started with speeches in Veterans Park, 19th and Louisiana streets, before heading south to the Army and Army Reserve recruiting station at 23rd and Louisiana streets.
One of the speakers, Julia Good Fox, urged the crowd to protest U.S. treatment of indigenous Iraqis and likened it to the way she said the United States has treated American Indians.
"Our No. 1 enemy against our sovereignty is the United States," she said.
American Friends Service Committee, a Kansas City group, laid out 36 pairs of combat boots and dozens of children's and adults' shoes in the park. The boots were tagged with the names of Kansans who had died fighting as a part of the war in Iraq. Among the names was Lucas Frantz, a 22-year-old Tonganoxie soldier who died in October 2005.
Ira Harritt, program coordinator for the organization, said the group wanted to have a visual representation of the war's costs.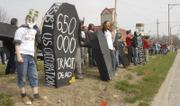 -->
"We want people to understand the human cost of war," Harritt said.
Belinda Penaloza, a protester who was appointed to speak with the media, said the protest aimed to raise awareness that people's rights were being violated and more people were dying.
"We want to remind the public, just to push that it hasn't gone away," said Penaloza, of Lawrence.
As the group headed down Louisiana Street, it encountered between 25 and 30 Lawrence police officers. The police informed marchers they could be arrested if they wandered into the street. Although there was some spirited debate, most of the protesters complied and there was little disruption.
Lawrence Police Chief Ron Olin said the protesters were peaceful and well-behaved. No arrests were reported.
Protester Dianne Schwartz, Lawrence, said she would like to see an end to the war and thinks others would also.
"I think some of those people who are driving by us would like to be with us, too," she said.
Copyright 2018 The Lawrence Journal-World. All rights reserved. This material may not be published, broadcast, rewritten or redistributed. We strive to uphold our values for every story published.