A rural Lecompton couple hope intravenous treatments will help revive their pet cat, Patches, who recently fell ill. They suspect Patches became sick after eating canned cat food that has since been recalled.
"She was in to see the vet about a month ago for some vaccinations and seemed just fine, but she stopped eating," said Charles Bloss, who owns the cat with his wife, Beth.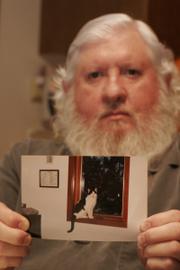 Now, Patches is in a Topeka animal hospital receiving intravenous treatments after suffering kidney failure, Bloss said. The Blosses think the cat became sick from eating Special Kitty - a brand of food they buy at Wal-Mart.
Lawrence resident Bryan Stancliffe, a veterinarian at North Topeka Animal Hospital where the cat has been treated since Sunday, said the prognosis wasn't good but he remained hopeful.
"We're crossing our fingers," he said.
Special Kitty is among the 42 brands of cat food and 53 brands of dog food being recalled because they are suspected of poisoning pets. The food was sold throughout North America under store brands carried by Wal-Mart, Kroger stores and other large retailers, as well as private labels like Iams, Nutro and Eukanuba.
Ontario,Canada-based Menu Foods - maker of the wet-style pet food - told the U.S. Food and Drug Administration it received the first complaints of kidney failure in pets on Feb. 20. The recall of 50 million cans of cat and dog food began Friday.
The FDA has sent inspectors to a company plant in Emporia, which received shipments of wheat gluten that has been identified as a likely source of contamination, said Stephen F. Sundlof, the FDA's chief veterinarian.
Inspectors have also been sent to a company plant in New Jersey.
The FDA has yet to tally how many reports it has received of cats and dogs suffering from kidney failure or death. As of Tuesday, 10 deaths - nine cats and one dog - were reported.
The Blosses are hoping Patches doesn't become one of the statistics and have spent $700 so far on treatment.
"We don't have any children, so these pets are just like our children," Charles Bloss said.
The Blosses also have a Labrador retriever and another cat that didn't like the food that made Patches sick, Charles Bloss said.
At the Lawrence Humane Society, 60 cans of recalled food were thrown out, executive director Midge Grinstead said. The shelter was able to buy some replacements with a gift certificate but is asking for donations of Science Diet canned foods.
"The sad thing is we used canned food for sick animals," Grinstead said. "We make a milkshake that they eat really well when they are sick. If we were using that food it could contribute to their poor health. It just makes us crazy."
The Wal-Mart store in Lawrence removed the recalled pet food immediately, store co-manager Bob Catlin said. An inventory was being taken Tuesday and he wasn't sure how much was removed.
"Once the company finds something out, they shoot it down to us immediately," Catlin said. "If somebody brings something back, we take it, no questions asked."
Lawrence Animal Hospital, 3210 Clinton Parkway, has received numerous calls from people asking about the dangers their pets may face, hospital receptionist Jeryl Crane said. The hospital does not sell the contaminated food and so far has not diagnosed any pets with problems linked to the recalled brands, she said.
Stancliffe advises pet owners to be attentive to signs of sickness in their dogs and cats.
"If they have any suspicions that they are not acting normal, they should get them checked," he said.
Copyright 2018 The Lawrence Journal-World. All rights reserved. This material may not be published, broadcast, rewritten or redistributed. We strive to uphold our values for every story published.