College Station, Texas — Moments after Texas A&M; defeated Louisville to reach the regional semifinals, Acie Law was crying with joy. Aggies coach Billy Gillispie walked up to his star point guard and said, "Didn't you believe me?"
When Gillispie took over at A&M; three years ago, he told Law the Aggies were going to win sooner than anyone expected.
A victory over Memphis (32-3) in San Antonio on Thursday will send the Aggies (27-6) to their first regional final, a step no one saw coming after A&M; went 0-16 in the Big 12 in 2003-04. Least of all Law, a freshman that season.
He was skeptical of Gillispie's vision and considered leaving when the new coach implemented workouts that resembled boot camp. But Law stuck it out, and ultimately realized his demanding coach was right.
"This season is something he promised me," the 6-foot-3 senior said.
Along the way, Law understood that Gillispie had a plan for him, too - to make him the cornerstone of a resurgent team.
Law is a finalist for the Wooden and Naismith awards, given to college basketball's best player. He led the Aggies in scoring, assists and steals this season, but he gets no special favors from Gillispie.
"I like the fact that he treats me like one of the guys and he doesn't make it easy for me," Law said. "He believes that even though I'm getting all this attention, that I can go further. You feel good inside when you play for a person who believes in you and continues to push you to get better."
Law has taken Gillispie's tough love and produced all year, especially late in close games. A player from Penn, the team A&M; ousted in the first round, called him "Captain Clutch."
Law averaged 6.9 points in the last four minutes of Big 12 games. He sank a 3-pointer and two free throws in the last 24 seconds of A&M;'s 69-66 win at Kansas on Feb. 3. Three weeks later, Law hit a 3-pointer to force overtime and another to force double overtime in a 98-96 loss at Texas.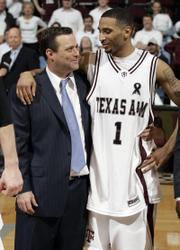 "He's developed a great talent," Gillispie said. "People ask how guys perform like that in the clutch. First of all, you have to be a really good player to do it time and time again. A bad or mediocre player might do it once, luck into it or whatever.
"A guy like Acie, you have to be very talented and you have to have great confidence. He has both of those things."
Melvin Watkins, Gillispie's predecessor at A&M;, said that when Law played for Kimball High School in Dallas, he already had a natural feel for the game.
"He had a calming presence whenever he had the ball," said Watkins, who resigned after the Aggies went 7-21 in 2003-04. "But you also had the feeling that when he had the ball, something special might be about to happen.
"He could make plays you can't teach," said Watkins, now a Missouri assistant. "If you could, you'd teach all your kids to make them."
Gillispie immediately saw Law's talent, but he wanted him to be more vocal. Now, Law's voice is often the loudest in huddles.
Against Penn, Law told his team he was about to take over the game. He scored 11 points in the last eight minutes to lead A&M; to a 68-52 victory.
Late in the Louisville game, Law urged his teammates to remember last season's one-point tournament loss to LSU. The Aggies responded with a defensive stand.
"I'm the leader of this team," Law said. "I can't get rattled or show that I'm kind of scared or panicking because everybody looks up to me. If I show that leadership, if I show that I'm not afraid, then the team will be at ease and we should be fine."
The Aggies have been following his lead well before he started drawing national recognition.
"We see it every day in practice," junior forward Joseph Jones said. "Right now, everything is just clicking for him and he's going great. And because of that, everything's going great for us."
Thursday's game is the biggest in school history and Law relishes the possibility of making at least one more winning shot before his college career ends.
"I'm not afraid to fail, and my teammates have confidence in me," he said. "I want the ball. If we're down, I might go to whoever's in the game and just say, 'Give me the ball, give me a touch.' Or I might go to coach and say, 'Coach, run a play for me.' It's a matter of wanting the ball and wanting that opportunity to make a play."
Copyright 2018 The Associated Press. All rights reserved. This material may not be published, broadcast, rewritten or redistributed. We strive to uphold our values for every story published.