San Jose, Calif. — San Jose may not be on the water, but it is a certified member of the Bay Area community.
And that means plenty of Jayhawks.
The Kansas University Alumni Association reports that the area that includes San Francisco, Oakland and San Jose is home to 4,242 known KU graduates.
Factor in another 5,500 from Los Angeles and 1,900 in San Diego, and California's crimson-and-blue contingent will be counted on to make plenty of noise at HP Pavilion when Kansas plays Southern Illinois at 6:10 p.m. (Lawrence time) Thursday in the regional semifinals of the NCAA Tournament.
"It's going to be a lot like Chicago. They'll come up, and they'll be there," said Mike Davis, senior vice president for the Alumni Association, which has 40,000 members nationwide. "They're excited. It's ratcheted up now. It's the Sweet 16."
Others already are looking ahead to the Elite Eight, and a potential Saturday matchup with a Pacific 10 Conference powerhouse.
"One of the things we miss out here is that Allen Fieldhouse vibe," said Adam Balentine, a 2005 graduate who is co-coordinator for the association's Bay Area chapter, which has 688 members and is looking to grow during the weekend. "We're definitely trying to bring that back, and give us a little home court advantage. There will be a lot of UCLA fans here. We have to show them, for sure."
-->
¢No trailer: The alumni association left its Rock Chalk Trailer behind in Lawrence this week, after towing it back from Chicago and preparing for a trip to San Jose a day later.
Something about embarking on an 1,800-mile trip just didn't make sense.
"We're sure excited about getting through this week, and I sure hope that we do," Davis said. "The problem we have, of course, is If we had driven, we wouldn't have time to get to Atlanta."
Davis acknowledges, of course, that it would have been a good problem to have.
¢Check the schedule: KU takes the court at 2:10 p.m. today (4:10 p.m. Lawrence time) for a public practice, scheduled to last for 50 minutes. Southern Illinois has the court beginning at noon (2 p.m. Lawrence time), followed by Pittsburgh. UCLA is last.
Photo Gallery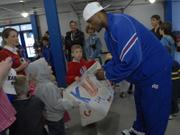 California dreamin'
The Alumni Association has scheduled a KU pep rally in San Jose. It'll be at the Circle of Palms, a picturesque outdoor plaza located between the Fairmont Hotel - KU's team hotel - and the San Jose Museum of Art.
"It should be nice weather," said Davis, who last week endured blustery, cold conditions in an urban plaza outside the John Hancock Center in Chicago. "And the vegetation will be a little bit better."
Copyright 2018 The Lawrence Journal-World. All rights reserved. This material may not be published, broadcast, rewritten or redistributed. We strive to uphold our values for every story published.