If you haven't memorized the names of all the "American Idol" singers yet, you surely know them by their hair choices.
The girl with the punk streaks is Gina Glocksen. The guy with the shaved head is Phil Stacey. The Pillsbury 'fro-boy - nickname courtesy of Jimmy Kimmel - is Chris Sligh.
And, of course, the dude who's worn it wavy, curly, straight and ponytail-plus-hat is Mr. Hair Excitement himself, Sanjaya Malakar.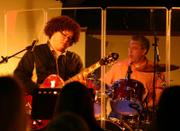 It's been a notable season for hairstyles on "Idol," a show that's always tweaking the physical image of its contestants as it nudges them toward pop-star perfection.
Just last week, judge Randy Jackson softened his slamming of Sanjaya's version of "Ain't No Mountain High Enough" by praising his lovely locks.
"You know what I look forward to, man, every week?" Jackson declared. "Dude, you're throwing down some different 'dos with the hair, man. ... Dude, 'Hair Idol,' you've got it jumping off."
Come to think of it, a follicle smackdown wouldn't be a bad idea for a bunch of aspiring music superstars. Attention-grabbing hairdos have long been an ingredient of the Top-40 success formula, from the fashion-revolution moptops of the Beatles in the 1960s to the buzz-cut sexybackness of Justin Timberlake today.
Sometimes hair creates instant branding. Before they were squashed by a lip-syncing scandal, Milli Vanilli used their long braids as part of their marketing strategy. Crazy swoops of '80s hair helped define artists like Boy George and A Flock of Seagulls.
Big names, too, know the power of the comb and brush. Prince. Mick Jagger. Beyonce. John Mayer. There's not a split end nor bad perm among them.
Why is cool hair so important to musicians? It's all about conveying a chart-worthy style.
"In the entertainment world, people see you before they hear you," says Indigo Zuri, owner of P 1/2+2 3/4 Styles, an image consulting firm in Ferndale, Mich. "If you're trying to come across as a fabulous singer and you don't have that look, then people won't take you seriously."
Each season, the "Idol" hopefuls arrive young, unpolished and ready to be groomed by the show's stylists.
Some contestants have hair that's already memorable. Season 1's Justin Guarini boasted those sun-kissed curls. Jasmine Trias tucked a flower into her hair as her trademark on the third season. Last year's winner, Taylor Hicks, made premature grayness hip for a while.
Other contenders require more help from products and flat irons. During Season 2, Clay Aiken's hair was transformed from messy-geeky to artfully tufted. Nowadays, he's evolved post-post-show into a much lengthier, lankier 'do.
So far this season, the 11 remaining finalists are experiencing some hair-raising changes.
Jordin Sparks has favored a youthful tumble of curls, but on last week's results show, she tried out a sleek mane of straight hair. She's still in the process of defining her "Idol" style, musically and visually.
And on Monday, celebrity news site TMZ.com ran an item saying it seems as if Haley Scarnato is sporting the same hair extensions Katharine McPhee used last year. "Unbeweavable!" the site joked.
As for the guys, their vocals aren't standing up to those of the girls, but their hair is more distinctive.
Copyright 2018 The Lawrence Journal-World. All rights reserved. This material may not be published, broadcast, rewritten or redistributed. We strive to uphold our values for every story published.