Los Angeles — UCLA coach Ben Howland left quite a legacy at Pittsburgh, including his longtime assistant, Jamie Dixon.
Howland turned Pitt's basketball program around during his time there, going 89-40 from 1999-2003 - his same record now at UCLA - and guiding the Panthers to two appearances in the round of 16.
Dixon stepped in when Howland left for Westwood, and has a 105-29 record and also twice has taken the Panthers into the round of 16.
The two friends meet again Thursday night at San Jose, when Howland's Bruins (28-5) face Dixon's Panthers (29-7) in the West Regional semifinals.
"This is the only game I'll never be pulling for Pitt. I know Jamie pulls for us," Howland said Monday during a conference call. "Win or lose, we're still going to be best friends for life.
"We're just happy we can create some good exposure (for the tournament)."
Dixon, 41, was an assistant on Howland's staff at UC Santa Barbara, then at Northern Arizona before the two joined up again at Pitt.
The Bruins' coach said they wouldn't have scheduled a non-conference game against each other, so the only way the schools would meet would be in the NCAA tournament. The teams have played only six times, with UCLA winning five but the Panthers taking the most recent game, a 91-79 victory at home in 1992.
The matchup in San Jose is their first in the NCAA tournament.
"The good news is somebody, either UCLA or Pitt, is going to be playing for a chance to get to the Final Four," Howland said.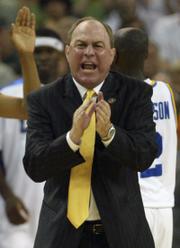 He said his ties to Dixon and Pitt shouldn't have any effect on the game.
"It's the players playing the game. They (the Bruins) have no history with Pitt except they have this fat, bald coach who came out here four years ago," he said.
Howland, 49, said Dixon always has done an "unbelievable job," and was the right choice to replace him at Pitt.
Like Dixon a native of Southern California, Howland said the UCLA coaching job was the only one he would have left Pittsburgh to take.
"Leaving was one of the hardest things I've ever done, leaving that team," he said. "That's why it was so important to me that Jamie would get that job, to have the continuity."
Asked about Dixon's having been under a microscope because it was his first head coaching job, Howland said: "Look at the results, is there any question? He has probably done a better job than anybody else would have. I'm just grateful it worked out.
"That Pitt program is going to continue to be strong for years and ultimately will win a championship - maybe as early as this year."
Howland's daughter, Meredith, is a student and former cheerleader at Pitt.
Asked who she would be pulling for, Howland said, "If your dad was the coach, who would you pull for? It's an easy answer."
Copyright 2018 The Associated Press. All rights reserved. This material may not be published, broadcast, rewritten or redistributed. We strive to uphold our values for every story published.