San Jose, Calif. — Back from Chicago late Sunday night.
Off to San Jose, Calif., Tuesday afternoon.
Life is a blur these days for Kansas University's basketball players and coaches.
"This is a very exciting time," KU sophomore guard Mario Chalmers said Tuesday before a 10:30 a.m. practice at Allen Fieldhouse, lunch and three-hour flight to the California Bay Area, site of Thursday's 6:10 p.m. Sweet 16 clash against Southern Illinois.
"Going to KU, I always wanted to play in the Final Four and go for a national championship. It's almost here. We've got two games to go. I want to be focused and ready to play," Chalmers added.
Chalmers, who has been on a roll of late with 16 three-pointers in his last 26 attempts over five games - and with 90 steals is just three short of surpassing Darnell Valentine as KU's single-season thefts leader - isn't taking anything for granted.
He realizes No. 4-seeded SIU is capable of putting an end to the top-seeded Jayhawks' 32-4 season.
"I think it's tough to play a team that wants to be a George Mason or a Cinderella. They will come out and play like they have nothing to lose," Chalmers said of the Salukis, who are nine-point underdogs.
"We also have to play like we have nothing to lose and not let the pressure get to us, have fun and try to reach our goals. They've got great players and a great defense. It's a tough test for us."
KU coach Bill Self isn't buying any David-Goliath scenarios for Thursday's game.
"I don't see them as a Cinderella at all," Self said of the 29-6 Salukis. "At Tulsa my last year we were 32-5 and got a 7 seed. Southern Illinois got a 4 seed, which is the same as saying they are a Sweet 16 team. People across America and the (NCAA Tournament) committee understand what kind of team they have."
Technically, Southern Illinois is known as a "mid-major" team - one on the outside of the power conferences looking in.
"Teams in the Missouri Valley Conference ... we don't look at them like mid-majors. We got a taste of what they are like last year (in losing to Bradley). We know we have our hands full Thursday," Self said.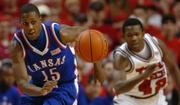 The "mid-major" tag bothered Self during his three seasons (1998-2000) as head coach at mid-major Tulsa.
"It kind of sets in your craw a little bit. We thought we were a high major," Self said. "We said, 'We can line up against a majority of power teams and win.' You know what? So can Southern Illinois."
Southern Illinois, it's been well documented of late, is known for its pressure man-to-man defense that allows just 56.1 points a game.
"From what I've seen on ESPN, they like to pressure out, play a hard tempo game, make it hard for you to get open and stuff," Chalmers said.
Self on Tuesday was asked if SIU's pressure compares to defenses in, say, the Big Ten conference, known for its tough 'D.'
"Most of the teams in the Big Ten play more traditional with two big guys. With that you can get pressure release," Self said. "It's not the same with SIU (which starts nobody taller than 6-foot-7). All five of their guys can trap a ball screen.
"They pressure, rotate, help the helper, are very sound. Their staff has done a fabulous job teaching guys the right fundamental way to guard. It's not with gimmicks. It's 'guard our man and trap out of areas, too.' It's as good or better than anything we've seen all year."
Pressed to come up with a comparable defense, Self said: "It really reminds me of my last team at Tulsa - undersized, tough, fast, deny every pass, deny every shot. They take great pride in that. They do that at a very high level."
Self said it'd take some intense preparation time to fully inform his Jayhawks on the Saluki defense.
"It's hard to simulate speed or some of the other things they do in practice," Self said. "We'll do some things to hopefully deal with their pressure better. You can't worry about them only on one end. We have to play a complete game and guard them as well.
¢Tatum a star: The Salukis have one of the best players in the country in 6-2 Jamaal Tatum, who is the Missouri Valley Conference's Player of the Year.
"He is one of the best slashers, leaders in the country," Self said. "One player who comes to mind (to compare him to) is Acie Law. He can get shots without running plays. He is fast and can get under you defensively. He's really good."
¢Slate: The Jayhawks, who arrived safe and sound in California at about 5:30 p.m. Tuesday, will hold an open shootaround practice from 2:10 to 3 p.m. today at HP Pavilion. Southern Illinois' open practice will be from 12 to 12:50 p.m. All of the Jayhawks practiced Tuesday at Allen.
¢Aldrich honored: KU signee Cole Aldrich, a 6-11 center from Bloomington (Minn.) Jefferson High, has been named Minneapolis Star-Tribune Metro Player of the Year.
¢Rest up: This is spring-break week on KU's campus.
"With no class this week it gives us more time to watch film, get rest, more time to just relax and think about the game and get focused," Chalmers said.
Copyright 2018 The Lawrence Journal-World. All rights reserved. This material may not be published, broadcast, rewritten or redistributed. We strive to uphold our values for every story published.