Columbus, Ohio — Go ahead, Tennessee fans. Break out the orange paint and slather up.
It sure seems to work for the head coach.
JaJuan Smith led a second-half comeback, Chris Lofton made one free throw after another in the final seconds and the Volunteers held off Virginia, 77-74, Sunday in the second round of the NCAA Tournament.
Fifth-seeded Tennessee (24-10) reached the round of 16 for the first time since 2000 under second-year coach Bruce Pearl, who painted himself orange before a Lady Vols' game last month to show some spirit.
Now, his team is showing some staying power.
"When you reach the Sweet 16 at the University of Tennessee with the way we've had to rebuild, you've made a special place in history for yourself," point guard Dane Bradshaw said.
A certain shade of history, no less.
Pearl took off his shirt and painted his torso orange to support the Lady Vols at one of their January games. The sight of his brightly colored belly was shown repeatedly on basketball highlight shows, bringing him some grief.
On Sunday, Pearl wore a conservative white shirt and did some of his most creative coaching, bringing down a Virginia team that couldn't get one more basket out of its fabulous guard tandem.
Point guard Sean Singletary missed an open three-pointer with one second left, then slumped and rested his forehead on the court in dismay as Virginia (21-11) watched its top two scorers come up empty at the end.
Coach Dave Leitao, who has led the Cavaliers through a similar two-year revival, immediately went to console the junior.
"We kind of got our heart broken," Leitao said. "I understood at that moment in time because he's so hard on himself that he would immediately take the blame, and that's the last thing I wanted him to do."
Tennessee will play No. 1 Ohio State in the South Regional on Thursday in San Antonio. The high-scoring Volunteers lost at Ohio State, 68-66, in January, when 7-foot center Greg Oden was just finding his form.
"Ohio State has changed a lot," said Pearl, who has taken Wisconsin-Milwaukee and Tennessee to the round of 16 in the last three years. "There was some uncertainty for them at that time. Greg was just starting to come on. My guess is they've gotten a lot better than we have."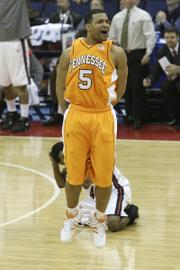 The Buckeyes will face a team determined to press and shoot the three - the Volunteers set school records for steals and three-pointers this season. They put their mark on the tournament in their opening game, matching the school and NCAA first-round scoring records by piling up 121 points against overwhelmed Long Beach State.
In the end Sunday, the Volunteers advanced by having their best player make the easiest shot of all.
Lofton, the Southeastern Conference's player of the year, hit all six of his free throws in the last 27.7 seconds, keeping Tennessee ahead. Lofton finished with 20 points.
"I started forcing shots," said Lofton, who was an uncharacteristic 4-of-16 from the field but 9-of-10 on free throws. "Coach kept telling me to be patient. Luckily, I got to the foul line and came through."
It was a numbing finish for Virginia, which got another big game from its guard tandem of J.R. Reynolds (26 points) and Singletary (19 points). It wasn't enough to get the Cavaliers into the round of 16 for the first time since 1995.
Memphis 78, Nevada 62
New Orleans - John Calipari's Memphis squad finally has a victory worth bragging about in its run of 24 straight.
Chris Douglas-Roberts scored 16 points before leaving with a sprained ankle and his high-flying, versatile teammates took over from there against Nick Fazekas and
seventh-seeded Nevada.
Memphis will take the nation's longest winning streak to San Antonio for a showdown Thursday against third-seeded Texas A&M.;
The second-seeded Tigers (32-3) hadn't played a team as good as the Wolf Pack (29-5) since their last loss to Arizona, back on Dec. 20. They showed they were up to the task by never trailing after going down 2-0, and shutting out the Wolf Pack the final 6:17.
Jeremy Hunt scored 16 and Antonio Anderson added 14 points and 10 rebounds for Memphis.
Fazekas, the three-time Western Athletic Conference player of the year, missed his first six shots but finished 7-of-18 for 20 points with seven rebounds.
Copyright 2018 The Associated Press. All rights reserved. This material may not be published, broadcast, rewritten or redistributed. We strive to uphold our values for every story published.