Chicago — Brandon Rush was in no hurry to enter the bowels of the United Center after stepping off Kansas University's team bus early Sunday afternoon.
His eyes were transfixed on a luxury Range Rover worth well over $100,000.
"I knew it was his because he had 'MJ' diamonds on each rim," Rush, Kansas University's sophomore forward, said of former Chicago Bulls' legend Michael Jordan.
"I saw his rims. I wanted to give him a good performance."
Rush turned in an effort that had to have Jordan nodding his approval in one of the building's luxury suites. Rush swished a career-best six three-pointers and scored 19 points in the Jayhawks' 88-76 second-round NCAA Tournament victory against Kentucky, a win that propelled the Jayhawks (32-4) into Thursday's 6:10 p.m. Sweet 16 battle against Southern Illinois in San Jose, Calif.
A bevy of photographers working the game clicked Rush's picture as rapidly as the Jayhawks took cell-phone shots of Jordan's car before the game.
"We lived by the three tonight. That's not bad, because we made them," Rush said after hitting six of seven threes for a KU team that cashed 10 of 16 to UK's 10 of 26. "I hit my first one, and that got me going."
KU-UK Panorama
A Panoramic Image from the Kansas-Kentucky basketball game. See the panorama »
Rush and Mario Chalmers each hit a pair of threes as KU raced to a 14-9 lead six minutes into the game. The squad, however, went 1-of-6 from beyond the arc the rest of the half and led just 36-30 at the break.
"At halftime, Mario said he was going to look for me. He wanted to get me involved in the game," said Rush, who hit a three to open the second-half scoring. "He told me to not pass up shots."
Rush scored 12 points the second half. He was perfect on four three-point tries.
Photo Gallery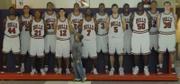 NCAA Tourney: KU vs Kentucky
"I really wanted to be aggressive, to get in the flow of the game tonight," said Rush, who admitted he was inspired playing Kentucky (22-12), a team he burned for a career-high 24 points in a 27-point rout at Allen Fieldhouse last season.
"I don't know what it is. Seeing Kentucky on their jersey helps me."
Chalmers, who hit three threes in five attempts and had 16 points, said there's a reason he told Rush to be prepared to accept his feeds the second half.
"I told him we had to get him going. I think he's the key to the team," said Chalmers, who had eight assists. "I think he is the best in the country at shooting."
Julian Wright actually outdid Rush with 21 points and eight rebounds. He hit eight of 12 shots and five of six free throws on a day KU and UK both nailed 18 of 23 charities.
"Julian was the best player we had today," Rush said.
Yet Rush's threes undoubtedly were huge, two coming in that 13-2 surge with foul-plagued Randolph Morris (22 points, 31 minutes) on the bench.
"I don't think he has had a game where he has been on a roll like he was today," coach Bill Self said of Rush, who hit six of nine shots overall.
"He has made four in a game or three in a game (five versus Toledo), but for him to make six of seven that came at key times really gave us a lot of momentum and were back-breakers for Kentucky. Brandon played great. Mario and Julian were great. Our sophomores really played well for us."
Kentucky didn't quit, but never managed to slice the lead under double figures after that 13-2 surge led by Rush and Wright, who had six combined in the run.
KU finished with a 56.6 shooting percentage with only the birthday boy, Sherron Collins, having an off day from the field with four baskets in 11 tries. The Chicagoan scored eight points with two assists, however, and was one of the Jayhawks most excited about seeing Jordan's vehicle.
"Sherron said, 'Did you see his car?' I said, 'Sherron, it's just a car,''' KU coach Bill Self said with a smile. "He (Jordan) is still the king. They all know him."
Seeing the vehicle turned out to be about the only sightseeing for the Jayhawks, who were intent on winning a pair of games in Chicago after first-round flameouts the past two seasons.
Go figure
10 Three-pointers by each team26 Three-point attempts by Kentucky (38.5 percent)16 Three-point attempts by Kansas (62.5 percent)18-for-23 Identical free-throw shooting by each team6-for-7 Three-point shooting by KU's Brandon Rush0-for-2 Two-point shooting by Rush56 Points by KU sophomores Rush, Julian Wright and Mario Chalmers6:10 Tipoff time (p.m.) for KU's Sweet 16 meeting Thursday with SIU
"I didn't allow them to have any fun," Self said. "We didn't do anything except meet and eat. They had fun playing, though."
He said normally on an extended road trip the squad might eat a team meal somewhere or hit a movie.
"The only movies were film," Self said, noting he'd continue the businesslike approach in San Jose. "Make 'em turn off their cell phones, things like that. We can have a good time when the season is over."
Rush said: "There were a lot of smiles in the locker room; coach Self had a big smile on his face."
But there was no wild victory celebration in the locker room.
"They are a weird group in that way, kind of mature beyond their years," Self said. "We played to our seed; no need for a big celebration."
Ex-Jayhawk Kirk Hinrich, who starts at guard for the Bulls, was allowed to speak to the squad, however.
"He told us to, 'Go get it, that nothing is promised,'" KU's Wright said of Hinrich, who reached two Final Fours but didn't win it all. "You have to earn it and go get it."
"He's a Jayhawk. He wants us to do well. He likes our guys after playing pick-up with them in the summer," Self said. "It was nice to have him here. It'd be nice to win a couple of games next week. The Bulls I believe are in Atlanta for the Final Four. He'd get to be there."
Copyright 2018 The Lawrence Journal-World. All rights reserved. This material may not be published, broadcast, rewritten or redistributed. We strive to uphold our values for every story published.