It has been five years since Kansas University basketball coach Bill Self has played Southern Illinois.
Five years ago, Self led his former team, Illinois, past the Salukis, 75-72, in the Las Vegas Invitational championship.
Afterward, Self said the game was SIU's "Super Bowl," something that miffed Saluki fans.
Now comes a chance at redemption, if it's not too deep in the memory banks. Southern Illinois and Kansas will play at 6:10 p.m. Thursday in San Jose, Calif., in a West Regional semifinal.
Kansas beat Kentucky, 88-76, Sunday in the United Center. Southern Illinois beat Virginia Tech, 63-48, Sunday in Columbus, Ohio.
Self defended the "Super Bowl" comment when asked about it Sunday.
"That was after the coach at Southern Illinois (Bruce Weber) said, 'We just hope Illinois can make it to the final because we know we'll be there,'" Self said. "That was kind of a play off of that. That was also before they went to the Sweet 16, if I'm not mistaken. I think they went that year (2001-02).
"They've already played many, many more high-profile games in the last six years than they had in a lot of time building up to that. I really feel that they are (among) the nation's elite programs now."
KU-UK Panorama
A Panoramic Image from the Kansas-Kentucky basketball game. See the panorama >
The 29-6 Salukis, the West region's fourth seed, are in the Sweet 16 for the first time since 2002 behind tenacious defense, the guard play of Jamaal Tatum and the coaching of 34-year old Chris Lowery, a former SIU player.
Photo Gallery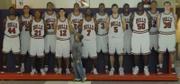 NCAA Tourney: KU vs Kentucky
"I'm a fan from afar. Chris has done a great job there, and they're as tough as any team in America," Self said. "They love grind-it-out games. The shot clock will go deep for both teams, I'm sure, many, many times in the game Thursday.
"I just feel like they're probably as sound defensively as any team in the country. They're very, very quick, they'll get up and under you. Very similar to the type of quickness - and maybe even more so - than what Bradley had last year, and Bradley gave us a lot of problems with their little guards.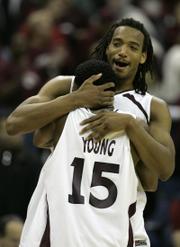 "I haven't studied them totally," Self added, "but I know enough to know they make it hard to score."
The Salukis captured the Missouri Valley Conference regular-season title this year and currently have won 15 of 16 games. They beat 13th-seeded Holy Cross, 61-51, in the first round before the 15-point win over Virginia Tech.
"I saw where they whooped Virginia Tech," KU sophomore Brandon Rush said. "I saw the score of that game and realized they're not a mid-major. They're one of the big-time teams like we are."
KU sophomore Julian Wright, a native of Illinois, knows about SIU too. When Wright was in high school, Lowery was an assistant at Illinois and tried to recruit the 6-foot-8 forward to the Illini.
"He's a really good coach, and he has them playing hard," Wright said. "They play really good defense.
"They have two good players in Tatum and (Randal) Falker. They have a one-two punch, so we know we have to guard and try and use our length to our advantage."
Copyright 2018 The Lawrence Journal-World. All rights reserved. This material may not be published, broadcast, rewritten or redistributed. We strive to uphold our values for every story published.