Photo Gallery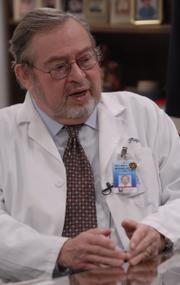 Methadone
At the clinic, they mix the fix with generic orange drink.
Dr. William McKnelly and his staff at the Kansas City Metro Methadone Program have been doling out sips of methadone for decades as a way to keep addicts from going onto the streets trying to buy heroin or other opiate drugs. Patients pay $9 per day to show up at the clinic, drink their dose and go about their day.
"You're still strung-out, addicted, but you don't have to pay vast sums to your heroin dealer or be at the mercy of what they call 'the man,'" McKnelly said.
Methadone has been linked to an alarming number of deaths nationwide, including the death of the son of Anna Nicole Smith in September. Smith, who died earlier this year, herself had received a prescription for methadone.
Between 1999 and 2004, the number of methadone poisoning deaths grew nearly fivefold, and in Kansas, deaths grew from four to 25 in that time frame.
Methadone clinics seem an obvious place to look for answers to this trend. But what happens daily at McKnelly's clinic - essentially a few dozen people showing up to sip from cups - is just one piece of the picture.
In the bigger picture, a growing emphasis on pain control is causing a dramatic jump in the amount of methadone and other opiate drugs prescribed by doctors to kill pain, not to treat addiction. A 2004 report by the U.S. Department of Health and Human Services found that increased prescription of methadone through pharmacies is the driving force behind the growth in methadone-related deaths.
"The pain doctors are starting to use it big-time," McKnelly said, but some "have no clue" about the drug and its powers.
About methadone
Methadone, created in a lab by Germans to replicate morphine, first gained attention in the mid-20th century as a promising cure for heroin addicts. McKnelly, a professor of psychiatry, says he had the first methadone program west of the Mississippi, founded in 1966 in affiliation with the Kansas University Medical Center.
One of Lawrence's most famous residents, writer William S. Burroughs, was a patient at McKnelly's clinic. A heroin addict early in his adult life, Burroughs returned to the drug in the late 1970s while living in New York.
Burroughs' longtime companion, James Grauerholz, said that if it hadn't been for methadone, Burroughs may never have been able to stop using heroin, leave the drug scene of New York's Lower East Side and move to Kansas, which he did in the early 1980s.
For about 16 years, until his death in 1997, Burroughs went to McKnelly's clinic several times per month to pick up his supply. Eventually, he earned the right to take home two weeks' worth at a time.
"I think he had reached a point in life where it was just a routine thing. Frankly, he would wake up, take his medication and go back to bed," Grauerholz said. "By the time he'd get up an hour and a half later he was feeling a lot better than you should at age 81."
Deaths rising
Methadone isn't just dispensed in liquid form. It can also be prescribed as tablets and diskets.
Methadone-related poisoning deaths grew 389 percent between 1999 and 2004, according to the National Center for Health Statistics, from 786 to 3,849. At the same time, heroin deaths declined slightly.
Recent years have seen a shift from methadone as an addiction-treatment drug to an analgesic, or painkiller, prescribed by doctors.
"We need to better determine why the use of prescription opioids has increased so markedly over the course of the last several years, especially the prescription of methadone as an analgesic," the American Association for the Treatment of Opioid Dependence said in a 2005 statement. "It would appear that physicians are prescribing methadone as an analgesic to an increasing number of patients without providing appropriate therapeutic safeguards."
Methadone is just one of a number of opiates on the rise. Oxycodone prescriptions grew 50 percent between 1999 and 2002, and morphine prescriptions grew 60 percent, according to a study cited in January's Journal of the American Medical Association. The single-most prescribed drug nationwide is the painkiller hydrocodone, with more than 100 million prescriptions in 2005.
Why such an increase? The American Medical Association article attributed it to a growing emphasis on treatment of pain, a trend that's only likely to increase in coming years as the population ages and more people suffer from arthritis, cancer and back pain.
"This increase in legitimate use of these medications has paralleled ... a rise in abuse of these drugs," the article said.
McKnelly and his staff members say they've seen more patients in recent years who come into the clinic hooked, not on heroin, but on prescription pills. McKnelly calls OxyContin - which is often crushed into powder and snorted to bypass its time-release feature - "the worst thing in the world."
Biological dependency
Methadone-maintenance therapy has three goals: to block cravings, to dull any euphoric sensations related to taking other drugs and to keep the person from going into withdrawal.
"Trying to get off any opiates is awful. It's hell," said Kerry McLay, a Lawrence substance-abuse counselor. "You have extreme body aches and nausea. Most people need to go to the hospital and medically detox."
McKnelly said he started his program with the view that he would work his "magical psychotherapeutic skills" on patients to help cure them of their addiction. He saw his first patients three to five times per month and, eventually, he recalls them saying, "These talks are great, but do we have to talk to get the medicine?"
That's when he realized it may be an unrealistic goal to wean people from the drug. For a certain group of people - regardless of their class or moral character - the pull of opiate addiction is just too strong.
"It wouldn't matter who you were, whether you were Mother Teresa, or Rush Limbaugh or a junkie down here by the mission," McKnelly said. "There are a lot of things you can do to assist people around the edges, but you can't talk them out of a biological dependency."
He realizes that clinics such as his "bother some idealistic people" who see it as swapping one drug for another. But he said dispensing the drug in a legal setting reduces crime and the chances of people getting HIV or hepatitis from a needle.
"If we had something like this for cocaine, I could get the Nobel Prize nomination," he said.
Copyright 2018 The Lawrence Journal-World. All rights reserved. This material may not be published, broadcast, rewritten or redistributed. We strive to uphold our values for every story published.