Chicago — Brandon Rush arrived at Kansas University thinking defense was something the other guy played to try to stop him from scoring. By the time Mario Chalmers left an early-season tournament in Hawaii, he realized just how far away Alaska is from the big-time. Julian Wright had flashes of brilliance, when he wasn't throwing passes to cheerleaders.
Look at them now, sophomores in name only.
"We all feel old now," Chalmers said. "Even the freshmen who came in after us all feel old now. We work hard and always try to get everybody up to pace, and I think we did a good job of that."
Spoken more like a senior than a sophomore.
Rush, Chalmers and Wright never looked better as a class than they did in the most important victory of their careers, the one that advanced them to the Sweet 16 of the NCAA Tournament.
Sunday's 88-76 victory over Kentucky in the United Center showcased how far the talented sophomores have progressed since joining since-departed Micah Downs in a class that was trumpeted as best or second-best by the recruiting services. They have justified that ranking.
Rush and Chalmers caught fire from the outside Sunday, forcing Kentucky to come get them, and once that happened, things opened up for drives that resulted in dishes to the remarkably quick Wright, who twisted around defenders and skied for easy buckets on his way to a team-best 21 points.
"We played against each other in high school (in the summer), and it just happened we came to the same school," Chalmers said. "We've worked hard together."
Wright, Rush and Chalmers combined for 56 points, even though they attempted just 29 field goals. The only true measure of shooting efficiency assigns 11â2 credits for every three-point field goal. Calculating that way, the trio combined for an .810 field-goal percentage. Chalmers added eight assists and four steals, and Wright led the Jayhawks with eight rebounds.
Photo Gallery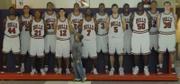 NCAA Tourney: KU vs Kentucky
College players sometimes can experience trouble shooting in NBA arenas because of the wide-open backgrounds. In two games in the United Center, Kansas made 23 of 38 three-point field goals, which computes to 61 percent. Chalmers was 6-of-9, Rush 7-for-8.
"Once we hit our first couple of threes, we thought the basket was as big as the ocean and just kept shooting them, and they kept going in," Chalmers said.
Junior Russell Robinson spent much of his freshman season as a bench-warmer and didn't always react well. He has enjoyed watching the progress of the players one class below him.
"As well as they're playing now, they've got a lot more potential to continue to get better," Robinson said.
The need for improvement was all Robinson talked about, even though against Niagara and Kentucky, Kansas averaged 97.5 points and allowed an average of 71.5.
"There's another notch that we've got to get to, and I think it's going to come in the next week, and once we do that I think we're going to be unstoppable," Robinson said.
The beauty of the NCAA Tournament is that each round gets tougher, especially so in top-seeded Kansas' West bracket, at least on paper. The top four seeds all advanced to San Jose, Calif., none quite as loudly as Kansas.
Copyright 2018 The Lawrence Journal-World. All rights reserved. This material may not be published, broadcast, rewritten or redistributed. We strive to uphold our values for every story published.