Chicago — Chicago Bulls guard Kirk Hinrich visited the visitors locker room Sunday at the United Center, imploring the current crop of Jayhawks to "go get it" - a trip to the Final Four and a National Championship.
Later, outside the locker room, he shared a hug with Max Falkenstien and introduced the retired KU broadcaster to his fiancee, Jill Fisher.
Hinrich's planning a wedding - he and Fisher are getting hitched in July - but he found time to stop by the place he works to see his former team beat Kentucky and pull forward on the Road to the Final Four.
"I love coming to see 'em," Hinrich said. "I was so happy when I learned they were coming to United. I was happy to see them out there, playing a great game. I think they're about as talented as any team in the country. It just depends on who comes to play on any given night.
"They need to hang their hat on defense. That's what wins - defense, experience. Hopefully they'll get it done. : They've got a real shot."
¢Prospective hoops major: Ryan Bitto, in line to graduate this spring from Laurel High School in Gurnee, Ill., plans to attend Kansas University this fall.
Drawn to its beautiful campus, lively town, friendly students and faculty, solid political science program and affordable out-of-state tuition, Bitto knew the school was for him because of yet another, rather sizable, intangible.
Winning hoops.
"That was probably 50 percent of it, at least," said Bitto, sporting a KU jersey and jollying with friends at Sunday's game. "My parents don't know about that, though. They'll say I'm not taking college seriously - the college part."
But they can be assured he'll be taking the basketball part quite seriously. He's already looking into how to get student tickets for games at Allen Fieldhouse.
¢Being like Mike: The guy who has a statue outside Hinrich's workplace, Michael Jordan, stood to acknowledge fans from a mid-level suite off the corner of the court during Sunday's game.
Photo Gallery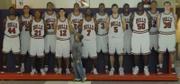 NCAA Tourney: KU vs Kentucky
Never mind that two guys who graduated from KU two years ago, Chris Maute and Jeremy Jacobs, had a better suite, just off mid-court.
"We got hooked up," said Maute, who credited a "friend of a friend" for scoring a Chicago real estate magnate's accommodations for the game.
Maute and Jacobs aren't counting on such good fortune for the regionals in San Jose. Instead of heading to California, they're looking to make a trip from Chicago to Lawrence for Thursday's game, then hopefully stick around for Saturday's game that could lead to a Final Four celebration.
¢'White Shadow' remembered: In the midst of an 11-year, $6 billion deal to broadcast the NCAA Tournament, CBS makes a habit of trotting out stars from its shows at NCAA Tournament venues.
In Chicago, it was Dennis Haysbert's turn to take in a few games and share some thoughts about playing Jonas "Snake Doctor" Blane on "The Unit."
When asked whether he had any super-secret suggestions for quick-strike military ops that might secure the Jayhawks a spot in the Final Four, the accomplished actor played along.
"What they have to do is play as a team," Haysbert said, in the deep, reassuringly confident voice also used in Allstate insurance ads. "You know, my team consists of five guys, so basketball's not that much different. You've just got to play as a team, and everyone out there has to be a leader. All of 'em have to get the ball, move the ball around, play defense and play at the top of their game."
Haysbert got his start on TV in 1979, guest starring as Michael Warren, a streetballer being recruited for the team on "The White Shadow."
Not that he'd be able to handle such competition today.
"At my age?" he said, looking down at the United Center court. "That would hurt."
Copyright 2018 The Lawrence Journal-World. All rights reserved. This material may not be published, broadcast, rewritten or redistributed. We strive to uphold our values for every story published.