Chicago — Lon Kruger was beaming. Happy as a coach, proud as a dad.
Thanks to a shooting surge by his son Kevin, the UNLV Runnin' Rebels rallied for the school's biggest win since the 1991 team made the Final Four.
Kevin Kruger shook off a shooting slump, connecting on three straight three-pointers late in the second half Sunday as UNLV beat second-seeded Wisconsin, 74-68, in the second round of the Midwest Regional.
Lon Kruger has no trouble acknowledging that winning is great, but watching your son play such an instrumental role makes it even better.
"When we needed baskets and Kev was getting the opportunity and not doing it, then that hurts perhaps a little more," Lon Kruger said.
"You hurt for him and his mom. But when he does it, it's a little extra special feeling for sure. I'm not going to deny that. We felt pretty good about all our guys, but he's a little different, obviously."
Kruger was shooting just 1-of-15 in the NCAAs - including 1-of-7 Sunday - when he found the range. He tied it with a three, then hit another to give the Runnin' Rebels the lead with just under six minutes left.
"Coming off my hand it felt good," Kevin Kruger said. "I just had a little faith. I feel like I'm going to knock down the next one every time.
Seventh-seeded UNLV (30-6) led by 12 at the half, but Wisconsin rallied with 11 straight points. A 16-2 run gave the Badgers a five-point lead to the delight of their red-clad fans in the United Center.
But Kruger, who transferred from Arizona State to play his final season for his father, delivered. After his three three-pointers, he was fouled on another long-range attempt and made all three free throws to make it 64-56 with a little more than three minutes left.
"I kept telling him, 'You are going to make some shots,'" said Wendell White, who led UNLV with 22 points. "He did. That's what happened."
Wisconsin's Kammron Taylor sank a three-pointer and converted a three-point play with 59 seconds to go to get the Badgers to 70-67.
Curtis Terry had a free throw and a little jumper in the lane to give the Rebels a five-point cushion with 29 seconds to go.
The Badgers (30-6) became the highest-seeded team to lose in the tournament so far.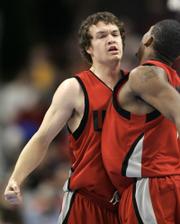 "It took a team to go 10-from-20 from three to get us out," Wisconsin coach Bo Ryan said. "And to their credit, they were able to do that."
Florida 74, Purdue 67
New Orleans - Florida's tournament experience paid off against plucky Purdue.
Al Horford and Corey Brewer each scored 17 points and the defending national champions withstood a game effort by the Boilermakers.
Purdue played just about how it wanted against the Gators - slowing down the tempo, rebounding with a smaller lineup and keeping the game close much of the way.
But the top-seeded Gators never panicked and made several clutch shots down the stretch to advance to the round of 16.
Horford had three big buckets in the final minutes, and Brewer hit a spinning jumper and then made six consecutive free throws to seal Florida's 14th consecutive postseason win.
The Gators advanced to play fifth-seeded Butler in the Midwest Regional semifinals Friday in St. Louis.
Oregon 75, Winthrop 61
Spokane, Wash. - So much for the little guys. The ones from Winthrop, at least.
Oregon's Aaron Brooks scored 22 points, and the third-seeded Ducks smothered the frazzled Eagles to eliminate the last remaining double-digit seed from the NCAA Tournament.
The 11th-seeded Eagles (29-5), who upset Notre Dame in the first round, lost for the first time in 20 games to end their most successful tournament in seven tries.
So where has the madness gone? This is the first time since 1995 that no double-digit seeds have advanced to at least the third round.
Instead, the Ducks (28-7) advanced to play UNLV in the semifinals of the Midwest Regional.
Copyright 2018 The Associated Press. All rights reserved. This material may not be published, broadcast, rewritten or redistributed. We strive to uphold our values for every story published.