San Francisco — For a second consecutive day, thousands of protesters flowed through the streets of several cities Sunday to call for an end to the funding of the Iraq war or the immediate return of U.S. troops.
Demonstrators converged in San Francisco, New York, Portland, Ore., and elsewhere to mark the fourth anniversary of the U.S. invasion of Iraq and call on President Bush to heed what they said was the will of the people.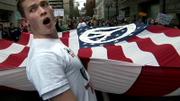 In largely peaceful demonstrations, about 3,000 people in San Francisco closed Market Street, a major downtown thoroughfare; in New York, more than 1,000 protesters converged in a park near the United Nations headquarters.
Dozens of police in San Francisco on foot and motorcycle blocked traffic and kept an eye on the crowd, which stretched for blocks through the financial district. No arrests were reported by late Sunday afternoon.
Gary Fong, 65, carried a sign calling on President Bush to "listen to America" as he marched in San Francisco.
"I think the war effort at this point is futile," the retired school guidance counselor and former Army intelligence officer said. "We want to do our part to express to Bush and the government that change needs to be made."
In New York, where union members, representatives of the Rev. Jesse Jackson's Rainbow-PUSH Coalition and war veterans joined protesters, the procession stretched for blocks.
Actor Tim Robbins, speaking at an earlier rally organized by the New York chapter of United for Peace and Justice, told the crowd that getting Congress to cut off funds for the war "would be a good way" to get the troops home.
"The American people want this war to end," said Robbins, a frequent anti-war protest participant. "That's the message they sent last November in the election. When are we going to start listening to them?"
Police lined sidewalks, and some walked ahead of the protesters as they marched toward the offices of Sens. Charles Schumer and Hillary Rodham Clinton. Demonstrators carried signs reading "Impeach Bush," and "Not one more dollar, not one more death."
In Portland, Ore., thousands of marchers packed a grassy stretch downtown to call for an end to the war.
"There are Iraqis who can rebuild their country," said Raed Jarrar, an Iraqi-Palestinian blogger, told the crowd. "They don't need someone to come from thousands of miles away to tell them how to treat their neighbor. They are the only ones who can end this violence."
Copyright 2018 The Associated Press. All rights reserved. This material may not be published, broadcast, rewritten or redistributed. We strive to uphold our values for every story published.