LEXINGTON, KY. — Acie Law was there when Texas A&M; hit bottom, wallowing through a winless Big 12 season three years ago, often wondering if he'd made a mistake by choosing to play for the perennially underachieving Aggies.
Law stayed, and vindication came in the jubilation after the Aggies' 72-69 win over Louisville in the second round of the South Regional on Saturday, when the senior point guard dubbed "Captain Clutch" for his cool demeanor under pressure finally let go.
Seconds after his 26 points helped send the Aggies to the round of 16 for the first time in 27 years, Law screamed while he hugged his teammates at midcourt.
"It's an amazing feeling. I don't have any words to describe it," Law said. "It's huge for this program."
A program that finally received the breakthrough victory it's been looking for under third-year coach Billy Gillispie.
It wasn't easy. Then again, it never really is for the Aggies (27-6).
Texas A&M; had to overcome a career-high 31 points from Louisville's Edgar Sosa and a raucous Rupp Arena crowd, most of whom made the 80-mile trip east to see the resurgent Cardinals (24-10) try to make it back to the final 16 for the second time in three years.
In the end, however, Sosa simply ran out of magic. After making 15 straight free throws, he missed two with 29.8 seconds left and the Cardinals trailing by one.
Sosa had another chance after Texas A&M;'s Joseph Jones missed a pair of free throws, but his deep three-pointer hit the back of the rim, and the ball made its way into the hands of Law.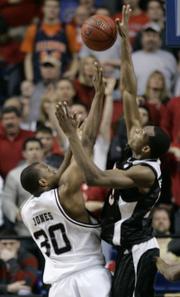 Law calmly made both free throws with 1.7 seconds left to push the lead to three, and when Sosa's halfcourt heave at the buzzer hit the top of the backboard, the Aggies celebrated at midcourt.
Sosa, playing in his first NCAA Tournament game, said he lost track of time during Louisville's penultimate possession and rushed the 25-foot shot.
"I thought there was less time than what it was," Sosa said. "I didn't know how far I was from the (three-point) line, but I definitely could have done something else."
The win helped ease the pain of Texas A&M;'s tough loss to LSU in the second round of last year's tournament, when the Tigers won it on a last-second three-pointer.
"It's ironic, it's basically the same play LSU ran last year," Gillispie said. "One of them went in, one of them didn't. I guess it evened out."
Ohio State 78, Xavier 71, OT
Lexington, Ky. - Ohio State thought Greg Oden was its best shot at a national championship. Turns out it was Ron Lewis, and in the nick of time.
Lewis capped a furious rally by hitting a long-range three-pointer with two seconds left to force overtime.
Ohio State trailed 55-44 with 71â2 minutes left and still was down 61-52 with 2:54 left. When Oden fouled out with a hard shove after the Buckeyes kept missing in the last 10 seconds, they looked lost.
Xavier's Justin Cage then made of one of two foul shots with 9.3 seconds left for a 62-59 lead, giving Ohio State its last chance. Lewis came down and, with two defenders flying at him, swished the tying three-pointer from several feet beyond the arc.
With Oden on the bench, fellow freshman - and high school teammate - Mike Conley Jr. took over. He scored 11 points in overtime and the Buckeyes never were threatened again in winning their 19th straight game.
Copyright 2018 The Associated Press. All rights reserved. This material may not be published, broadcast, rewritten or redistributed. We strive to uphold our values for every story published.