A reporter reminded Kansas University's Russell Robinson that the Jayhawks not only drilled Kentucky, 73-46, last season in Allen Fieldhouse, but also stopped UK, 65-59, his freshman year in Rupp Arena in Lexington.
"Yes, but we had 'Big Dub,'" Robinson stated of the game two seasons ago.
Not exactly.
KU's Wayne Simien did not play against the 'Cats in Lexington because of injury. Also, Robinson played just two minutes the second half after getting whacked in the head, and Keith Langford went out late because of a concussion incurred diving for a loose ball.
"That's right. Moody played really well that day," Robinson said of Christian Moody, who had 11 points and seven rebounds in 23 minutes (including the first three of his career), prompting announcer Billy Packer to deem Moody the "best walk-on of all time."
Then a freshman, Sasha Kaun scored seven points with four boards in 12 minutes.
"It was one of my better games the whole year," Kaun said. "It was a great game. We had freshmen stepping up without 'Dub.' It was a fun game."
KU freshmen J.R. Giddens and Alex Galindo combined for 15 points. Current UK starters Bobby Perry, Ramel Bradley and Joe Crawford had 10, 2 and 0 points respectively.
Photo Gallery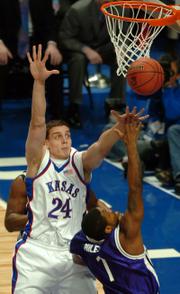 KU prepares for UK
¢No time to sightsee: Chicago native Julian Wright was asked if the Jayhawks had any spare time to wander downtown Chicago.
"A little free time, but it's cold outside," Wright said of wintry temperatures on St. Patrick's Day. "I think some of the guys have walked to Niketown. Some have met family in the lobby."
He hasn't done much wandering of Michigan Ave.
"I kind of forget my bearings now," he said with a smile.
Tomsk, Russia, native Sasha Kaun said: "I would like to come back here sometime on vacation. It kinds of reminds me of where I grew up in terms of a lot of people and a lot of traffic downtown with the buildings. I like this city a lot."
¢'Cats are darn good: How good is No. 8 seed Kentucky?
"Good enough to make a deep run in the tournament," KU's Self said of the SEC team that entered the tourney with six losses in nine games spurring talk that Tubby Smith might be on the hot seat.
"They've got a lot of losses, but all have been close games," Robinson said of the 22-11 Wildcats, who have just four double-digit setbacks.
¢Proud of Big Apple: Robinson had his New York Yankee hat resting next to him during his interview session in KU's locker room.
"Always," Robinson said, asked how often he has the hat with him. "I'm proud of New York, lot of good years in the Bronx."
He loves his stay in Lawrence.
"At first there was culture shock," he said. "You get over it in 10 minutes. I love it now."
¢Powerhouses meet early: KU and Kentucky would make for half of a strong Final Four.
"We'd never have figured we'd have this matchup so soon. If you told us we'd be playing Kentucky in the second round before the season started, we wouldn't believe it," Brandon Rush said. "Nobody would expect this."
¢Hot seat: Smith on "showing class" despite critics saying he should be replaced as UK coach: "It's just the way I am. I don't see any controversy. There will be critics on any level, in any profession. If you stay in the business long enough, you will have detractors and critics. You have to be secure and confident.
"It doesn't bother me. It's not something you should dwell on. I've been in the business long enough to understand it."
¢Smith on the Jayhawks: "Brandon Rush can take you to the basket. (Mario) Chalmers, Russell Robinson, they can bring Sherron Collins off the bench. There are so many weapons, so many ways they can beat you.
"Robinson is a heady player. Julian Wright : I haven't even mentioned him yet. They have too many weapons to guard."
Copyright 2018 The Lawrence Journal-World. All rights reserved. This material may not be published, broadcast, rewritten or redistributed. We strive to uphold our values for every story published.