Chicago — Kansas University coach Bill Self was asked how difficult it was for Tubby Smith to take over for Rick Pitino at Kentucky 10 seasons ago and for Self to take over for Roy Williams at Kansas four seasons ago.
"I think Tubby's situation was probably even greater because they had won the national championship," Self said of the man he replaced at Tulsa when Smith took the UK post.
"He (Smith) was able to win it all his first year. That took a little pressure off initially, but after winning it the first year, people say, 'He did it with his (Pitino's) players.' I don't think anyone will ever be totally happy.
"I don't think following Roy for me was as big a deal to me personally as people outside of the program made it to be," Self added. "(People saying) 'Roy did this or that.' I'm proud of what they accomplished. We knew coming in we'd be compared to past teams. But you shouldn't judge a team to a past team unless it's the same team."
Photo Gallery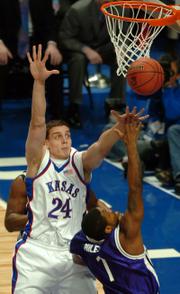 KU prepares for UK
Self admits he was confused his first year when expectations were for the Jayhawks - led by Wayne Simien Keith Langford and Aaron Miles - to win the national title.
That team lost to Georgia Tech in overtime in the Elite Eight.
"I knew expectations were high when fans told me, 'Hey, this is our year. This is going to be our year.' I said, 'Timeout. Your year has been the last two years. You had three lottery picks,'" Self said of Drew Gooden, Nick Collison and Kirk Hinrich. "What makes us better now? But I'm not hung up on that.
"When I was talking about taking the job," the former Illinois coach continued, "I had one person who is well known tell me, 'You don't want to follow him (Williams).' Another said, 'Why would you let that keep you from taking the job?' I think the second person was right. Do what's best for you and your family. If you want to work at a high level, there probably will be some expectations."
Copyright 2018 The Lawrence Journal-World. All rights reserved. This material may not be published, broadcast, rewritten or redistributed. We strive to uphold our values for every story published.