SACRAMENTO — Derrick Byars released five years of frustration on Washington State in the second half. He hit five three-pointers, blocked a critical shot and repeatedly kept Vanderbilt alive in a double-overtime thriller.
The SEC's player of the year wasn't ready to end his career at Arco Arena - even when time, foul trouble and the Cougars' vaunted defense were lined up against him.
And Byars made the plays to keep his Commodores in the spotlight for at least a few more days.
Byars scored 27 points, Shan Foster added 20 and Vanderbilt took control in the second overtime, beating Washington State 78-74 on Saturday in a dynamite second-round game in the East Regional.
"Considering the stage, this was the best game I've played," Byars said. "It's something you visualize before the game. I saw myself making shots, and those shots went in in the second half."
Alex Gordon scored 12 points, and center Ted Skuchas opened the second OT with his first four points of the game for sixth-seeded Vanderbilt (22-11), which is headed to the round of 16 for the first time since 2004 - and just the fourth time in 20 seasons.
Byars and Foster, the similar swingmen who led the Commodores' surprising surge this season, embraced at midcourt after Washington State's last gasp. Byars transferred to Vanderbilt in 2004 after two years at Virginia, then spent last summer obsessively working out in an effort to elevate his game to the level it reached against the Cougars.
"We played good defense on (Byars), but what can you do when he's making shots like that?" Washington State's Derrick Low asked.
Low scored 20 points for the third-seeded Cougars (26-8), whose remarkable turnaround season ended in a game filled with outstanding defense and gutsy shots - but rookie coach Tony Bennett's team couldn't get one last break.
"That was one of the best college basketball games I've ever been involved in," Vandy coach Kevin Stallings said. "And as happy as I am for our team, my heart goes out to Tony Bennett and the Washington State players, because neither team deserved to lose that game."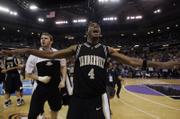 North Carolina 81, Michigan State 67
Winston-Salem, N.C. - Tyler Hansbrough tossed away the mask protecting his broken nose and busted up Michigan State.
Top-seeded North Carolina sure did need its big man to fend off the Spartans.
The sophomore finished with 33 points and nine rebounds and Reyshawn Terry knocked down several key baskets down the stretch to help the Tar Heels.
North Carolina is in the round of 16 for the second time in three seasons, and will face the winner of today's Texas-Southern California game next week in East Rutherford, N.J.
Georgetown 62, Boston College 55
Winston-Salem, N.C. - In the heart of Atlantic Coast Conference country, Georgetown and Boston College got together for some old-fashioned, bruising Big East basketball.
With 7-foot-2 Roy Hibbert and Jeff Green clogging the middle, the Hoyas took another step toward their return to the top of college basketball at the expense of a former conference rival.
With most the North Carolina crowd rooting for the Eagles, who bolted the Big East for the ACC two years ago, the Hoyas pulled away late by dominating the inside.
Copyright 2018 The Associated Press. All rights reserved. This material may not be published, broadcast, rewritten or redistributed. We strive to uphold our values for every story published.