Buffalo, N.Y. — A.J. Graves can't grow any wider or taller, and the junior point guard doesn't believe Butler will ever shed its mid-major label.
But boy, can the Bulldogs pull off a surprise or two once they get into the NCAA Tournament.
Goodbye, Maryland. Welcome back, Butler: the tiny Indiana school that clinched its second trip to the round of 16 in four years with a 62-59 win over the Terrapins on Saturday.
Graves led the way, scoring 19 points, including a crucial three-point basket with 2:09 left.
"Man, it was amazing," said Graves, who's generously listed at 6-foot-1. "To be put in a position like that to make a big play and to have teammates backing up and supporting you, it was just an amazing feeling."
Butler (29-6), the No. 5 seed in the Midwest Regional, advances to St. Louis next week and improved its record to 7-6 in seven tournament appearances - six since 1997.
"I think we've proven we can play with anybody," added forward Brandon Crone, who scored 13 points. "This means everything."
Maryland (25-9), making its first tournament appearance since 2004, has not advanced past the second round since 2003. The Terps were undone by an aggressive and smaller team, which kept their offense out of rhythm.
Graves in particular outplayed Maryland's star swingman, D.J. Strawberry, who failed to score a point in the first half and finished with eight.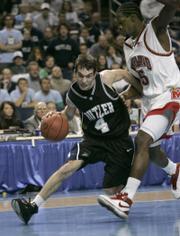 Mike Jones led Maryland with 21 points, but the Terps had only one other player - James Gist with 13 - in double-digits. That's unusual for a team that entered the game averaging nearly 80 points.
"We had good looks in the first half and couldn't score," Gist said. "We knew we made some mistakes, and some of those mistakes cost us the game."
Butler never trailed after going up 39-36 on Drew Streicher's three-point basket five minutes into the second half and hung on in a game Maryland rallied back to tie four times.
Crone scored with three minutes left to put the Bulldogs ahead, 58-56. Then, after Maryland's Ekene Ibekwe missed a six-footer, Graves hit a three-pointer from the left corner to all but seal the victory.
After Strawberry hit one of two free throws to cut Butler's lead to 61-59, Maryland failed to get a shot off on its final two possessions. The game ended when Jones was unable to control Eric Hayes' inbounds just before the buzzer sounded.
Copyright 2018 The Associated Press. All rights reserved. This material may not be published, broadcast, rewritten or redistributed. We strive to uphold our values for every story published.