Chicago — With thousands of shamrock-ensconced partiers milling around him, a bright-green Chicago River barely flowing beside him and a city alive with the Irish spirit raising pints of green beer behind him, Brandon Allen wasn't even blinking.
His focus: Straight ahead and clear, looking forward only to this afternoon's game against "Big Blue," the Kentucky Wildcats.
No luck - Irish or otherwise - required.
"KU's gonna win," said the 15-year-old Olathe resident, who didn't bother wearing anything green Saturday in Chicago, opting for crimson and blue instead. "KU's just better."
Even amidst the boisterous mayhem crawling through Grant Park, into Wrigleyville and through adopted KU haunts like Kincade's Sports Bar & Grill, Junior's Sports Lounge and Lottie's Pub and Grill, Kansas University enthusiasts were struggling to find ways to keep their eyes and minds clear enough to support their team.
For KU fan Michael Clouse, looking at 12 hunks of corned beef floating in the river below the Michigan Avenue bridge, it was a familiar case of survive and advance.
"Our goal here is to not make a trip to the emergency room in Chicago, and just have a good time," said Clouse, who works as a physician's assistant in the ER at Overland Park Regional Medical Center. "And KU just needs to go in and play their game."
Photo Gallery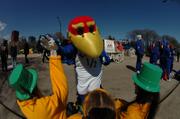 KU's St. Patrick Day parade
The spirit squad and Baby Jay revved up revelers lining Columbus Drive during the city's annual St. Patrick's Day Parade. Green T-shirts with "Rock Chalk" on the front peeked out from beneath winter coats, as brisk winds and frigid temperatures - even some brief flurries of snow - failed to chill excitement surrounding both the Irish holiday and the NCAA Tournament.
Oh, yes. The tournament.
The Jayhawks were to spend their day watching film, shooting baskets, watching more film, and then more film, in preparation for today's second-round clash with Kentucky. The game is expected to tip off about 4:10 p.m.
No green for the team in between.
"We're down here on a business trip," junior forward Darnell Jackson said after Friday's 40-point victory over Niagara. "We want to make sure we stay focused, keep our mindset and get done what we came here to do."
Copyright 2018 The Lawrence Journal-World. All rights reserved. This material may not be published, broadcast, rewritten or redistributed. We strive to uphold our values for every story published.