Chicago — Kentucky basketball coach Tubby Smith couldn't think of a turning point in his team's 67-58 victory over Villanova.
But the focal point? That's an easy one - 6-foot-11 forward Randolph Morris, the most imposing figure on the United Center court Friday.
"Villanova has nice inside players, but Randolph is 6-10, 6-11, and he was bigger than anyone else on the court," Smith said. "We've been putting an emphasis on him all year."
Morris had 19 points and 11 rebounds for the Wildcats, who with the victory advanced in the NCAA Tournament and will play Kansas University on Sunday in the second round.
Considering KU is noted for its guard play, Kentucky feeding it inside to Morris as much as possible may be a predictable strategy to keep up with the talented Jayhawks.
It sure worked Friday against Villanova.
"It's always an emphasis to get me started," said Morris, who averages 15.9 points and 7.8 rebounds per game. "Obviously, coach recognizes that I am key to a lot of things that we do offensively and defensively."
Morris, an All-SEC selection this season, was a steady figure for Kentucky, which led just 30-28 at halftime but steadily outscored Villanova in the second half to pull away.
Photo Gallery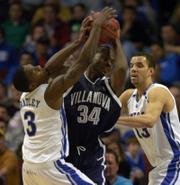 NCAA Tourney: Kentucky vs Villanova
The big guy was the big priority, but the Wildcats still had a nice balance of offensive production. Jodie Meeks had 12 points off the bench, while starters Ramel Bradley (11) and Joe Crawford (10) also hit double figures.
Villanova (22-11) still threatened late, drawing within six before Mike Nardi missed a three-pointer that forced the Philadelphia school to foul, helping Kentucky pull away. The Wildcats improved to 22-11 and avoided what would've been a bitter end to a somewhat disappointing season.
Instead, two of college basketball's most storied programs will meet Sunday, with a trip to the Sweet 16 at stake.
Kentucky and Kansas met in a regular-season home-and-home series in 2005 and 2006, with the Jayhawks winning both meetings. The last was a whupping - Kansas rolled, 73-46, in Lawrence behind 24 points and 12 rebounds by then-freshman Brandon Rush.
"They just hammered us at Allen Fieldhouse. They just clobbered us pretty bad. We had no chance," Smith said. "Their speed, their athleticism : we saw it first-hand last year, and they just built on it this year. They're a year older and a year stronger and a year more experienced. This is what it gets you - a No. 1 seed.
"They've got a lot of weapons. We need to stay focused and figure out how to slow them down."
Morris, who was suspended for the first 14 games of last year for his involvement with a sports agent, did not play against the Jayhawks that day. He returned the next game and averaged 13.3 points per game the rest of the year.
He since has been the center of Kentucky's attention. Don't expect that to change Sunday.
"I've never beaten them, and my freshman year I didn't have a good showing." Morris said of KU. "They're always a really good team. I'm just going to look to trying to do the same thing I did (Friday). Play smart, play hard and try to get the win for Kentucky."
Copyright 2018 The Lawrence Journal-World. All rights reserved. This material may not be published, broadcast, rewritten or redistributed. We strive to uphold our values for every story published.